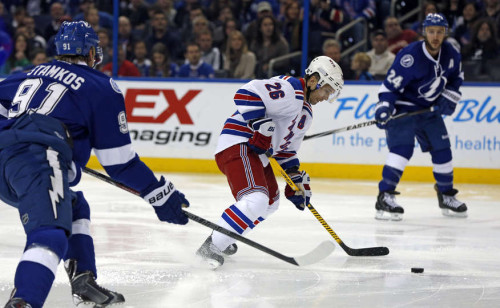 Tampa Bay @ NY Rangers – Game One – Saturday 1PM – Madison Square Garden
Season series: Lightning 3-0
-November 17th – Lightning 5 – Rangers 1
-November 26th – Rangers 3 – Lightning 4
-December 1st – Lightning 6 – Rangers 3
Two of the NHL's fastest teams will be facing off in the 2015 Eastern Conference Finals. After the Rangers and Lightning both played physical second round series, they're should be some more open ice in this series for the horses to run. They've taken similar paths to the NHL's final four, with the Rangers having a relatively easy time with the Penguins (winning in five games), and then having to come back from 3-1 series deficit to beat the Capitals (with a late Game Five comeback to save the season). Tampa Bay almost faced a 3-1 deficit in the first round, but tallied two late goals in Game Four to force overtime and then even the series. They went on to beat Detroit in seven games and then jumped out to a 3-0 lead on Montreal before closing it out with a strong game six performance.
This series won't be short on storylines, with Martin St. Louis taking on the team he wanted out from last season after spending twelve years in Tampa. The former Lightning Captain's performance has been subpar in the 2015 playoffs, so maybe this will get the juices going again for him. On the other side is former Rangers Captain Ryan Callahan, who underwent an emergency appendectomy on Monday night, but is already skating in practice and expected back in the series. The Blueshirts are looking to get back to the Stanley Cup and "change the ending" from last year's Cup Final. Steven Stamkos is looking to get to the last round for the first time in his career, falling just short in 2011 after losing to Boston in seven games.
We've all seen Henrik Lundqvist's ridiculous career Game Seven numbers, but the goalie at the other end of the rink is going to be plenty tough on the Rangers. Ben Bishop is big (6′ 7″) and owns a 8-0-0 career record against New York (also a 1.49 goals against average and a .946 save percentage against the Blueshirts). The 2014 Vezina nominee's performance against the Canadiens was markedly better than against Detroit the previous round, so he's getting better as the playoffs go along. To beat the former Maine Black Bear, they'll need to get him to move from side to side to open up some of the space he takes away from being so big. Tampa will face the usual difficulties in beating Lundqvist, but with the way the Rangers offense is going, they don't need to get many behind Henrik to make them count.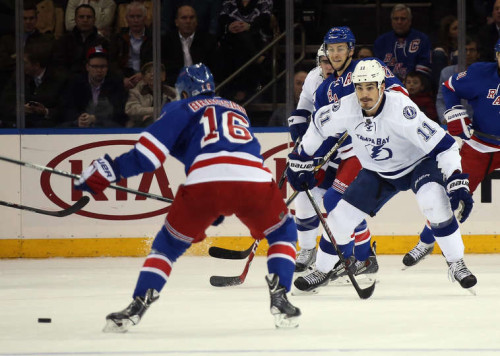 Steven Stamkos is one of the game's elite players (and could be heating after scoring in two straight games at the end of the series with the Habs), but the Rangers first focus will be slowing down the "Triplets Line". Tyler Johnson (eight goals and four assists), Ondrej Palat (three goals and five assists), and Nikita Kucherov (six goals and five assists) are fast, crafty, and potent. Even though the Blueshirts' offensive performance has been less than ideal, Tampa will need to keep Derick Brassard (five goals and three assists), and Chris Kreider (five goals) in check. If the Rangers can get Mats Zuccarello back, that would be a huge boost to their line-up and would help with their offensive woes. When Rangers Head Coach Alain Vigneault was asked about a possible return this series, he didn't rule it out. Defenseman Dan Boyle is already skating with the team after taking a Brooks Orpik elbow to the face in game seven against Washington, so he should be fine for the series.
Of all of the teams in the Eastern Conference, Tampa Bay was probably the team the New York needed to avoid to play for the Stanley Cup again. The games were a while ago, and the Rangers are a bit of a different team since those meetings, but I didn't like how they looked against them in any of those three meetings. Until the Rangers can display some consistent scoring, it's tough to pick them against one of the league's top scoring teams (tops in the regular season at 3.16 goals per game / fourth in the playoffs at 3.20 goals per game) that also has a goalie they haven't been able to solve yet. It wouldn't shock me if Lundqvist stole another series because he can definitely do that, but I just can't pick a team who can't score to win a series against a team who is offensively potent. Lightning in six.
Love Reading About Hockey?

Subscribe to keep up-to-date with the latest and most interesting hockey news!
| | |
| --- | --- |
| | We hate spam just as much as you |