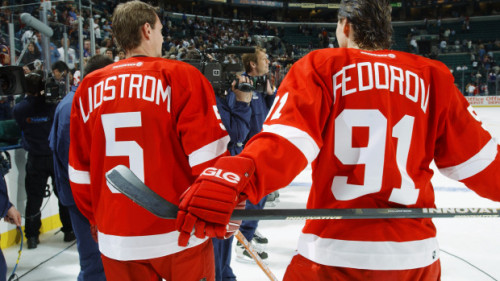 The 2015 Hockey Hall of Fame class was announced on Monday, and it's about as strong a class as you could come up with. It's a strong defensive class, with four of the five members calling the blueline home, while the one forward was a two-time Selke Trophy winner. Let's take a closer look at the group that will be inducted on November 9th in Toronto:
Sergei Fedorov – Center – 1990-2009 – Detroit, Anaheim, Columbus & Washington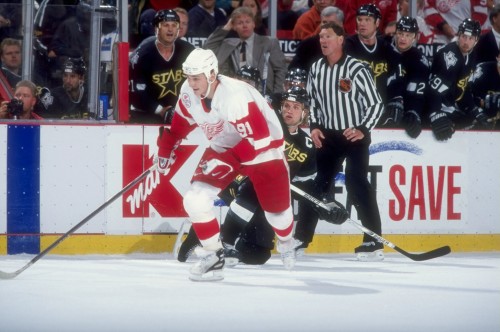 1248 Regular Season Games Played – 483 Goals / 696 Assists / 400 PP Points / 124 SH Points
183 Playoff Games Played – 52 Goals / 124 Assists / 15 PP Goals / 3 Stanley Cups
-After being Detroit's fourth round selection in the 1989 NHL Entry Draft, Fedorov went on to win three Stanley Cups, two Selke Trophies (1994, 1996), and the Hart (the first European trained player to win the MVP) & Lester B. Pearson Trophies in 1994. For the bulk of his career, he was considered one of the fastest skaters in the game, and the best all-around player in all three zones on the rink. In international play, Fedorov won three World Championship Gold Medals (1989, 1990, 2008), and took home Olympic Silver in 1998 and the Bronze in 2002. He was a member of the famed "Russian Five" unit (along with Igor Larionov, Vyacheslav Kozlov, Slava Fetisov & Vladimir Konstantinov) in Detroit, and ranks fifth on the Red Wings career points list. He also holds the career record for most overtime points with 27.
Nicklas Lidstrom – Defenseman – 1991-2012 – Detroit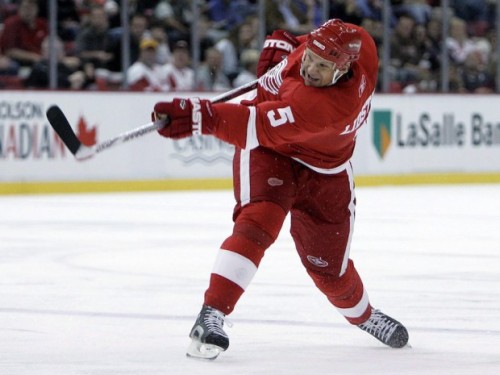 1564 Regular Season Games Played – 264 Goals / 878 Assists / 590 PP Points / 40 SH Points
263 Playoff Games Played – 54 Goals / 129 Assists / 30 PP Goals / 4 Stanley Cups
-When you talk about the best defenseman of all time, it's tough to argue for anyone but Bobby Orr. If you had to pick the second best defenseman of all time, it would be hard to argue for anyone but Nicklas Lidstrom. The third round pick of the 1989 Entry Draft was a seven-time Norris Trophy winner, an eleven time All Star, and the Conn Smythe winner in 2002 (the first European born player to win the playoff MVP award). He never played less than seventy games (except for the shortened 1994-95 season, where he played in 43 of the 48 games) during his twenty NHL seasons, was the first European-born player to be a Stanley Cup winning Captain, and is a member of the Triple Gold Club (World Championship in 1991 and Olympic Gold in 2006 for Sweden). He earned the nickname "The Perfect Human" for the way he played on the ice and the way he carried himself off the ice. If there ever was a Jurassic Park for hockey defensemen, Lidstrom would be the base gene for all of the blueliners.
Chris Pronger – Defenseman – 1993-2013 – Hartford, St. Louis, Edmonton, Anaheim, Philadelphia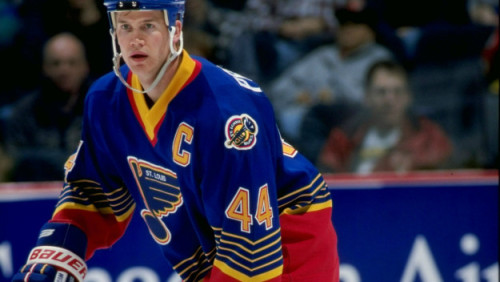 1167 Regular Season Games Played – 157 Goals / 541 Assists / 374 PP Points / 27:28 Average TOI
173 Playoff Games Played – 26 Goals / 95 Assists / 13 PP Goals / 1 Stanley Cup
-There hasn't been a defenseman over the past twenty years that has come close to the brand of hockey Chris Pronger brought to the ice. His mix of size (6'6" / 220 lbs), snarl (1590 career penalty minutes), and offensive ability (698 points) is rare. He was a dominant force on the blueline for eighteen seasons, and is only the second defenseman ever (Bobby Orr in 1969-70) to win both the Norris Trophy and the Hart Trophy in the same season (1999-2000). The second overall pick of the 1993 Draft won his one Stanley Cup with Anaheim in 2007, but also reached the finals in 2006 with Edmonton and again in 2010 with Philadelphia. His career ended too soon after these two hits early in the 2011 season. Pronger is also a member of the Triple Gold Club with two Olympic gold medals (2002 & 2010), and a World Championship representing Canada in 1997
Phil Housley – Defenseman – 1982-2003 – Buffalo, Winnipeg, St. Louis, Calgary, New Jersey, Washington, Chicago, Toronto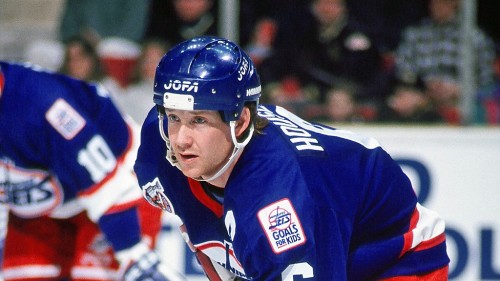 1495 Regular Season Games Played – 338 Goals / 894 Assists / 609 PP Points
85 Playoff Games Played – 13 Goals / 43 Assists / 6 PP Goals
­-Widely considered one of the best American-born defenseman of all time (Chris Chelios being the other), Housley spent 21 seasons in the NHL, accumulating 1,232 career points. He was a seven time all-star, and a member of the All-Rookie Team in 1983 after being selected sixth overall in the 1982 draft. He ranks second in points among American born players (only Mike Modano is ahead of him), and won silver in the 2002 Olympics in Salt Lake City. He registered at least sixty points in a season twelve times, but never won a Stanley Cup (he played in the 1998 Final for the Capitals). He coached Team USA and won the gold medal in the 2013 World Junior Championships.
Angela Ruggiero – Defenseman – 1998-2010 – Harvard / USA Womens Team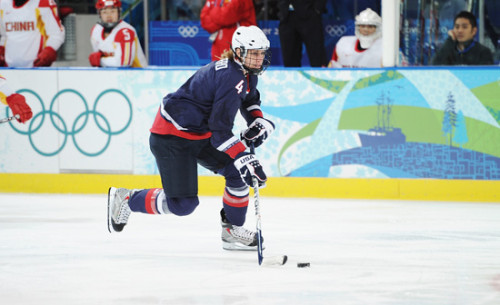 NCAA – Harvard – 66 Games Played – 54 Goals / 84 Assists / 12 PP Goals
Olympics – 21 Games Played – 5 Goals / 9 Assists / 1 Gold Medal (1998 – Nagano)
–Ruggiero medaled four consecutive times in the Olympics (Gold in 1998, Silver in 2002 and 2010, and Bronze in 2006), and took home the top defenseman award in 2002 and 2006. Ruggiero captured World Championship gold four times (2005, 2008, 2009, 2011) and won the silver six other times. She took home the Patty Kazmaier award in 2004 (the female hockey equivalent of the Hobey Baker Trophy) while playing for Harvard, after being a finalist the previous season. The four-time NCAA All American reached the NCAA Championship twice, losing to Minnesota-Duluth in 2003 and Minnesota in 2004, and was also the Beanpot MVP in 2004. The Hockey News selected her as the best female hockey player in the world in 2003.
Love Reading About Hockey?

Subscribe to keep up-to-date with the latest and most interesting hockey news!
| | |
| --- | --- |
| | We hate spam just as much as you |