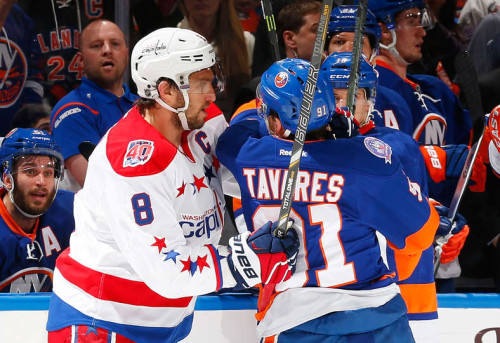 Washington @ NY Islanders – series tied 3-3 (Game Seven 7:30PM – Verizon Center)
-Remember when the Islanders lost to the red-hot Blue Jackets in a shootout to close the regular season? If they had won that game at Nassau Coliseum, then tonight's Game Seven would have also been at the Coliseum (it's great to see that old barn rocking until the very end). Nonetheless, the Isles have a chance to play a few more games in Long Island if they can beat the Capitals in DC tonight. The Islanders will be thin on the blueline again, but Head Coach Jack Capuano gave heavy minutes to his top two pairings (Johnny Boychuk/Nick Leddy & Thomas Hickey/Brian Strait – impressive showing from both units) and it worked. This will be John Tavares' first Stanley Cup Playoff Game Seven, and a big performance would go a long way. If Washington wants to advance to the second round, this would be an excellent time for a source of secondary scoring to show up. It can't all be Nicklas Backstrom and Alexander Ovechkin if the Caps hope to make a deep run. The winner will face the New York Rangers in the second round.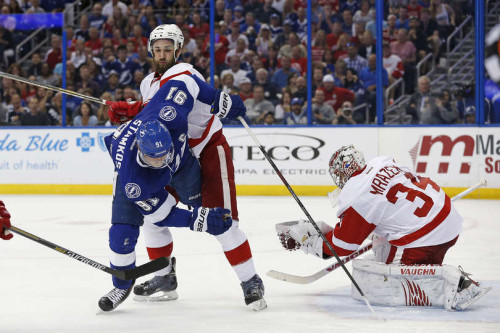 Tampa Bay @ Detroit – Red Wings lead 3-2 (Game Six – 7PM – Joe Louis Arena)
-Before the series, I thought it would be the Lightning trying to finish off the Red Wings in Game Six of this series, not the other way around. If the Lightning don't figure out Red Wings goaltender Pete Mrazek (3-2 / 1.92 GAA / .937 save percentage, two shutouts) tonight, they'll be the biggest disappointment of the 2015 playoffs. The Red Wings have taken Steven Stamkos out of the equation in this series (two assists), and Detroit is playing its usual brand of disciplined, mistake-free hockey. Jon Cooper's cheating allegations aside, it's time for the Lightning to play like a 50-win team (improving on their 2 for 24 power play success rate would be a good start), or have plenty of time on Tampa's lovely golf courses to figure out what went wrong.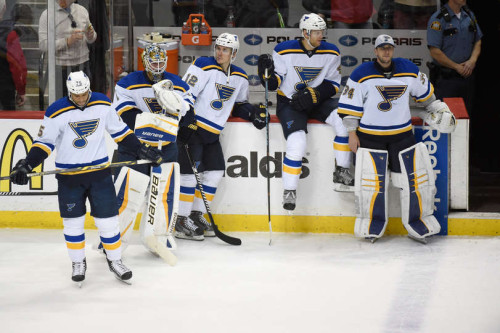 Summer Time Blues for St. Louis
-For the third straight season, the St. Louis Blues will be cleaning out their lockers after the first round of the Stanley Cup Playoffs. Even though they were the Central Division winners and the second overall seed in the West, the Blues ran in to a tough Minnesota Wild team (Blackhawks last season, Los Angeles the season before), and couldn't get much offense going. Other than Vladimir Tarasenko and their Game Four offensive explosion, the Blues offense was MIA. Teams who don't have a settled goalie situation also don't tend to go far in the playoffs. Jake Allen looked fine at some moments, but way in over his head at others. Brian Elliott didn't do much down the stretch of the regular season to inspire confidence in him either. The big question is whether or not Ken Hitchcock survives this. I don't think he does for the age old reason of "needing a new voice in the locker room". It happens to every coach eventually, and Hitch is no stranger to it (see his tenures in Dallas, Philadelphia and Columbus), but he would find work pretty quickly if the ax were to fall on him. With the hockey world waiting for the Mike Babcock domino to fall one way or the other in Detroit, we'll see more coaching moves once that happens.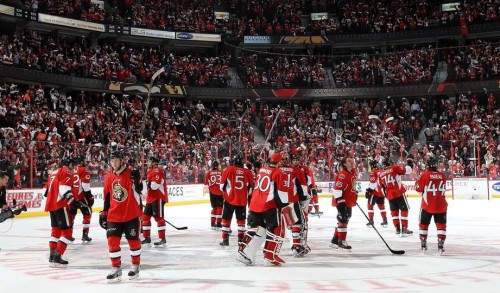 Senators Campaign Comes To An End
-The fact that Ottawa even made the playoffs this year was quite the impressive feat considering where they were in the standings in late January. Pushing the rival Canadiens to six games after trailing 3-0, instead of going in the tank, makes me think that they'll be back in the playoff mix next year (especially if they can make an addition or two in free agency). The big decision will be whether to go in to 2015-16 with Andrew Hammond between the pipes to start the year, or to stick with the veteran Craig Anderson (who was great in the two and a half games he played). Anderson has three more years under contract, so if they decide they want to go younger, they could get a decent amount in return from a team who is only a goalie away from being a top-notch contender (ie, St. Louis)