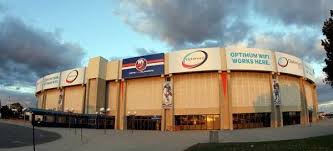 While there's no playoff action today (the first round wraps up tomorrow night with Game Seven of the Detroit–Tampa Bay series), but there's a few things to talk about and catch up on.
Isles Cast Away from 2015 Playoffs
-Last night marked the end of an era. With the Islanders 2-1 loss to the Capitals in Game Seven, there will officially be no more hockey at the Nassau Veterans Memorial Coliseum (they will call Brooklyn and the Barclays Center home starting next season) after 43 years of playing in Uniondale, NY. As for the actual Islanders, this was a tough series to lose because they were so close. Who knows how it would have been different if they didn't lose three of their top six Defensemen (Travis Hamonic, Lubomir Visnovksy, Calvin deHaan) during the series. Who knows how different last night would have gone if the refs had called the two minute boarding penalty on Alexander Ovechkin that was blatantly ignored. It didn't help that the Islanders struggled offensively in the first two periods either, but moving forward there's a strong foundation to build on with this club. The only question is whether or not Head Coach Jack Capuano will be a part of that future? I can't see Capuano leading a team to a Stanley Cup, and with the quality of head coaches that will be available this summer, the front office has to be curious of what candidates could be interested in coaching John Tavares and company.
Norris Trophy Candidates Announced
-Ottawa's Erik Karlsson (21 Goals / 45 Assists / +7 / 30 power play points)
-Montreal's PK Subban (15 Goals / 45 Assists / +21 / 21 power play points)
-Los Angeles' Drew Doughty (7 Goals / 39 Assists / +3 / 17 power play points)
-While Drew Doughty has yet to win a Norris Trophy, had a great season for the Kings, and certainly deserves to win one at some point in his career, it won't be this year. The 2015 winner will be adding a second Norris Trophy to their mantle. Both Erik Karlsson (2011-12 recipient) and PK Subban (2012-13 recipient) are vital members to both team's bluelines and power play units. It's really tough to make a pick here, but I'm going to lean towards Karlsson. While he doesn't kill penalties, Karlsson had a fantastic season with less around him to work with in Ottawa (including an unsettled goalie situation behind him until Andrew Hammond went on his run). Subban has been downright electric at times for Montreal, but he has benefited a bit from having Carey Price behind him. I ever-so-slightly lean towards Karlsson, but Subban would be just as worthy a recipient.
Vezina Candidates Announced (last Friday)
-Montreal's Carey Price (44-16-6 / 1.96 GAA / .933 save percentage / 9 shutouts)
-Nashville's Pekka Rinne (41-17-6 / 2.18 GAA / .923 save percentage / 4 shutouts)
-Minnesota's Devan Dubnyk (36-14-4 / 2.07 GAA / .929 save percentage / 6 shutouts)
Devan Dubnyk immediately solved the Wild's goaltending issues, and is a big reason why Minnesota made the playoffs (and advanced to the second round), but the Vezina is about an entire season's worth of work. While Pekka Rinne was strong for most of the season in Nashville, Carey Price had too good of a season to not win the Vezina. If he hadn't consistently played at that high level throughout season, Montreal doesn't win the Atlantic Division. His season was good enough that he'll get consideration for the Hart Trophy. With most of these awards, you can make a strong case for two or all three of the finalists, but not here. Price's season was just that good.
Love Reading About Hockey?

Subscribe to keep up-to-date with the latest and most interesting hockey news!
| | |
| --- | --- |
| | We hate spam just as much as you |