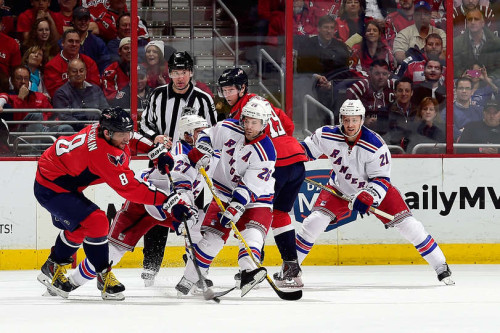 Washington @ NY Rangers (Game One – 7:30PM – Madison Square Garden)
-For the fifth time in the past seven seasons, there will be another chapter added to the Capitals–Rangers playoff rivalry. The Rangers took the season series 3-1, including a road win in the last game of the regular season, when the Caps could have clinched home ice with a win (the game meant nothing to New York). While the Rangers will be a well-rested bunch coming in to the series (it's been six days since they eliminated Pittsburgh), they'll be without the services of top-line winger Mats Zuccarello (upper body injury – no timetable for his return – aka concussion) for this round. The Blueshirts are a deep team that can still win without the Norwegian, but his absence will be a bit of a blow. Martin St. Louis will fill the void left behind on the top line, and one of his main jobs is to get Rick Nash going (one goal in the first round). One positive will be the return of Kevin Klein to their blueline, who has been absent for over a month with a broken arm. His presence makes one of the best bluelines in the league even better. The Capitals will have to try and slow the pace down and make this more of a physical series. The Rangers are one of the fastest teams in the league, so it'll be a matter of being able to "hit what they can catch". Alexander Ovechkin (two goals, three assists) and Nicklas Backstrom (three goals, three assists) produced in their first series against the Islanders, but they still lack secondary scoring. The Rangers have done a good job of keeping Ovechkin at bay in previous playoff match-ups, so the need for others to score becomes even larger. Evgeny Kuznetsov had a strong performance against the Isles (three goals, one assist), but they'll need more. The Rangers averaged just over two goals a game in the first round, and Braden Holtby needs to keep their scoring average at the same level if Washington wants to advance to the Conference Finals for the first time in Ovie's and Barry Trotz's careers.
My Pick – Rangers in six. I think it'll be a good series, but the Capitals didn't do enough in the first round to make me think they can knock off the NHL's top seed. Their lack of depth scoring against a goalie like Henrik Lundqvist doesn't bode well for them.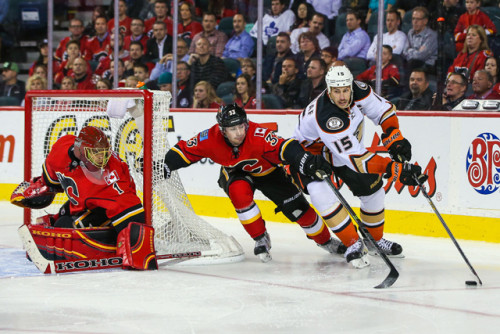 Calgary @ Anaheim (Game One – 10PM – Honda Center)
-Two of the teams that have been waiting the longest to get their next series going will finally take the ice tonight. In one corner are the upstart Flames, who took over their first round series early by banging the Canucks around in five games. In the other corner is the West's top team, the Ducks. Many people underestimated Anaheim, and thought they would be upset in the first round, but they swept Winnipeg instead. The Ducks trailed heading in to the third period three times in that series, and were able to pull out the victory every time. The Flames can relate to the "never say die" attitude considering they earned 24 points this season when trailing after two periods (but so did Anaheim). Both teams are top heavy with quality bluelines that can join the rush. Frederik Andersen played well enough to keep his crease despite John Gibson returning from an upper-body injury. Former Duck Jonas Hiller will get the nod for Calgary, and was deemed expendable after last season because of Andersen and Gibson. On a side note, Calgary is 0-15-5 in Anaheim during the regular season since 2004, and won one playoff game there in their 2006 first round meeting (Anaheim took the series 4-3). This is going to be a fun series to watch and will be worth staying up for.
My Pick – Ducks in six. Calgary will give Anaheim a much tougher time than the Jets did, but the Flames won't be facing a soft team like Vancouver either.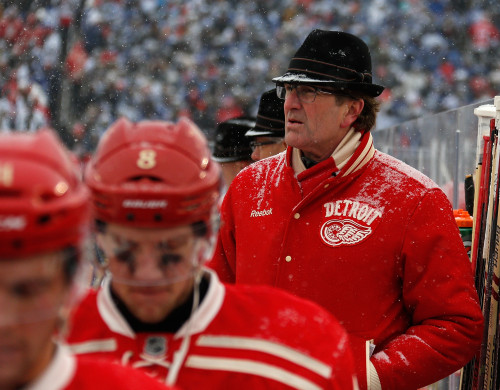 Red Wings Clipped
-Ben Bishop looked like Ben Bishop last night (31 saves), and the Lightning advanced to play Montreal with a 2-0 victory. Detroit almost had a 3-1 series lead, but they'll be haunted by letting Tampa score two goals with under six minutes remaining in the third period of Game Four (TB went on to win in OT). The page turns to Mike Babcock's future, who is a free agent to coach wherever he'd like, and teams will want him. Toronto, Philadelphia, Buffalo, and San Jose all have vacancies. St. Louis, Los Angeles, and the Islanders are all good teams that had disappointing finishes to their seasons with coaches that have been around awhile. For a guy of Babcock's caliber, a vacancy could be made if he were interested. The Red Wings will try for 25 consecutive playoff appearances next season.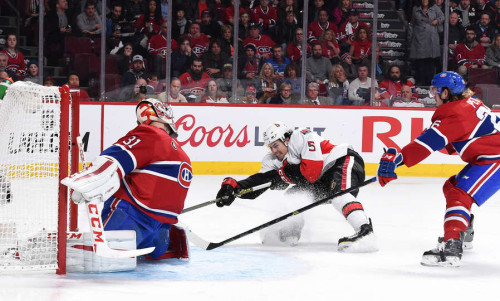 Hart Finalists Announced
All three finalists for the NHL's MVP award are from the Eastern Conference this season, and they're all strong candidates. Capitals LW Alexander Ovechkin (53 goals, 28 assists) is a finalist for the fifth time (he's won it three times), and looked like the happy Ovie of old this season. New York Islanders Center John Tavares (38 goals, 48 assists) is a finalist for the second time (coincidentally losing to Ovechkin that year). He would have won the scoring title if Dallas' Jamie Benn didn't have four points in the Stars final game. He's embraced being the face of a franchise that's been trying to turn it around for over a decade, and he's a big reason why they're succeeding. Finally, this is Habs' Goalie Carey Price's first time being a finalist (Henrik Lundqvist was the last goalie to be a finalist in 2011-12), and he was the top goalie wire-to-wire while handling a heavy workload. This will likely be a year where the goalie takes home the NHL's top individual award, considering Price was the first goalie since 1990-91 (Ed Beflour) to lead the NHL in wins (44-16-6), goals against average (1.96), and save percentage (.933). He also broke Jacques Plante's 59-year-old franchise record for wins in a