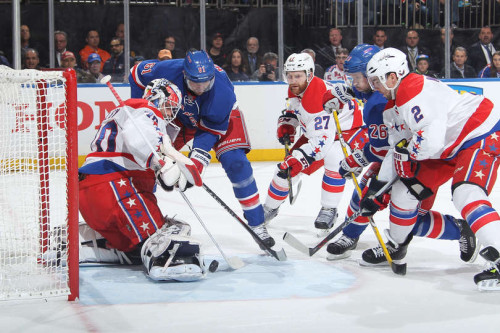 Washington @ NY Rangers -Series tied 1-1 (Game Three – 7:30PM – Verizon Center)
-The Rangers scored more than two goals in a victory for the first time in the 2015 playoffs with a 3-2 win over Washington Saturday afternoon. That's not exactly the offensive output we've become accustomed to by the Blueshirts throughout the season, but they showed signs of that high-octane offense in the first period when they scored two goals. Braden Holtby has faced 32 shots in each of the first two games, so there's no worry of him having to all-of-a-sudden face an onslaught of shots. Rick Nash still only has one goal (but four assists), and the rumblings of him being a ghost in the playoffs are starting to pick up again. There's still time for him to turn it around and produce, but at what point is it in his head that he can't score in the postseason? Is it already too late?
One guy who has been performing consistently on the Rangers top line is Derick Brassard (four goals, one assist). Alain Vigneault may need to shake up the top six to generate some offense, especially without Zuccarello in the lineup. As for the Capitals, it's been all about Alexander Ovechkin (four goals, four assists). The old, happy Ovie is back on the ice, and it's tough to see him slowing down any time soon, especially when he's scoring goals like this. Expect Barry Trotz to put The Great Eight out there any time he sees the Keith Yandle-Dan Boyle pairing taking a shift with the last line change at home. Evgeny Kuznetsov continues to be a source of scoring for Washington, tallying his fourth goal of the playoffs in the Game Two loss. The bulk of the Rangers attention will be geared at slowing down the Ovechkin-Nicklas Backstrom-Joel Ward line, but getting physical with Kuznetsov should shut him down. The Rangers definitely aren't in a must-win, but getting home ice back tonight and guaranteeing yourself going home no worse than 2-2 is certainly better than being in a situation where you have to win to avoid going home down 3-1 in the series.