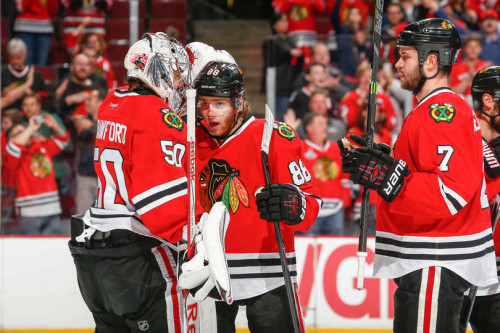 Chicago @ Minnesota – Blackhawks lead 2-0 (Game Three tonight – 8PM – XCel Energy Center)
–Wild Head Coach Mike Yeo said after their Game Two loss that he "didn't know what team that was that just played", and the team he knows better show up tonight. If the team that handled the Blues in six games doesn't reappear, Minnesota could be facing the end of their season on Thursday night. The Wild also had a terrible first period in Game One, but bounced back and made a game of it. The problem for them is that Chicago is starting to look like the playoff beasts we know from the past few Springs. The Hawks didn't put on the sharpest display of hockey against Nashville in the first round, but they're clicking now. That's terrible news for Minnesota, who really need to win both home games to make this a series again. It will all come down to the goalies. Can Devan Dubnyk elevate his game against a potent offense and steal a couple of wins to even the series? In the other crease, Corey Crawford needs to play the way he did in Game Two (30 saves on 31 shots) and not releapse to his first round follies. Patrick Kane has three of the Blackhawks' eight goals in the series. One positive for the Wild – Chicago Head Coach Joel Quenneville is 0-7 all-time when having a 2-0 lead heading in to a road Game Three.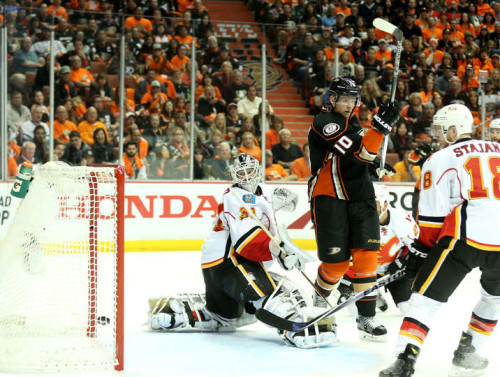 Anaheim @ Calgary – Ducks lead 2-0 (Game Three tonight – 9:30PM – Scotiabank Saddledome)
-The Flames find themselves in the same situation as Minnesota: win both games at home or your season will be over within a week. The Ducks dominated Games One and Two, and they don't show any signs of slowing down. As well as they played against Winnipeg in the first round, Anaheim is playing better hockey right now because they're doing what they want against Calgary. Anaheim is a grizzled, playoff-tested team, and Calgary took advantage of a cream-puff Vancouver team in the first round. Karri Ramo gets the responsibility of keeping Anaheim's scoring to two or less goals tonight (nothing Calgary is doing right now makes me think they'll score more than three goals in a game), and they'll also be burning a year of Sam Bennett's entry level deal once he takes the ice tonight (and why not, they need all of the help they can get). For the Ducks, it's a matter of staying the course, and keeping Frederik Andersen's office clean (he's only given up more than two goals once in their six playoff games thus far). Unlike the Rangers in the East, Anaheim looks like a true number one seed in the West.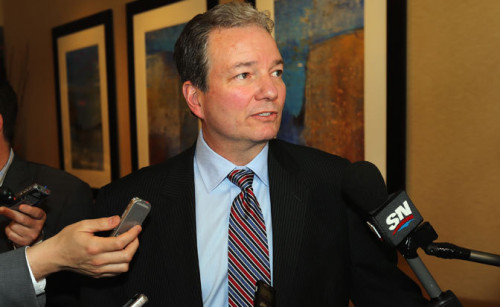 New Jersey Hires Ray Shero as GM
-After 28 year as General Manager of the New Jersey Devils, Lou Lamoriello is stepping aside (he'll remain President and will still be involved in personnel decisions) for former Pittsburgh GM Ray Shero. Up until two seasons ago, the Devils were almost always in the playoffs, and were considered to be a strong contender in many of those seasons. Just when you thought that they're two decade run of strong hockey was coming to an end and they'd stay towards the bottom of the standings for a bit, they bring in a guy who can get them back to being a perennial playoff presence. He built the 2008-09 Stanley Cup champion Penguins (and the team that lost to Detroit the season before), and is responsible for most of the young talent that Pittsburgh is relying on to step up and take a bigger role next season. New Jersey just got themselves one of the best GM candidates that were available. Boosting their offense will be one of Ray's top priorities.
Love Reading About Hockey?

Subscribe to keep up-to-date with the latest and most interesting hockey news!
| | |
| --- | --- |
| | We hate spam just as much as you |