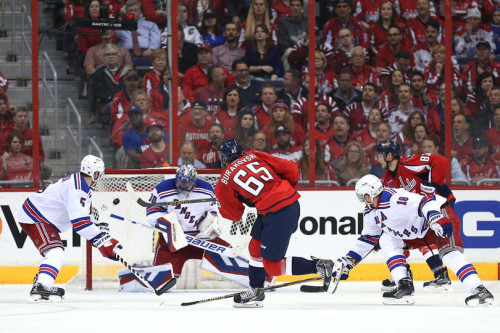 NY Rangers @ Washington – Capitals lead 3-1 (Game Five – 7PM – Madison Square Garden)
-There's not much the Capitals need to do differently (it's been that way for a couple of games now) heading in to Game Five if they want to punch their first ticket to the Eastern Conference Finals since 1998 (and only their third time ever getting that far). The only thing they'll need to focus on is remaining disciplined. Don't let the Rangers take any liberties, but don't do anything that could give them a power play either. While New York's usually tepid power play remains that way in the playoffs, all it takes is one goal to turn the tide of a series. The Rangers need to find a way to get pucks to the net. Holtby is consistently making the tough saves (like on Carl Hagelin's penalty shot in Game Four), and the only way to open him up is to make him uncomfortable. Get in his office and make life as difficult as you can on him without making contact (the refs in this series have been letting them play but won't tolerate goalie contact at all). Washington is blocking most shot attempts from the outside, so they'll need to work pucks to the slot to have a better chance. The Rangers rallied from a 3-1 deficit in the second round last season, but this Washington team is much tougher to play against than Pittsburgh was.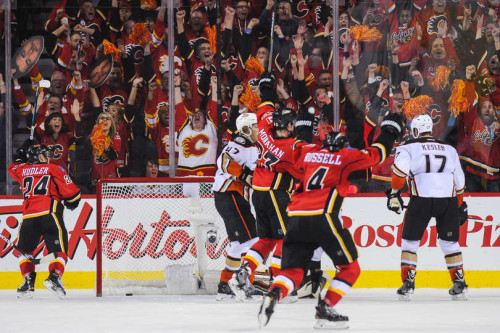 Anaheim @ Calgary – Ducks lead 2-1 (Game Four – 9:30PM – Scotiabank Saddledome)
-The Ducks were on their way to a 3-0 series lead on Tuesday night, but Calgary's Comeback Kids struck again. They sent the game to OT with twenty seconds remaining in the third period (thanks to Johnny Gaudreau's power play goal), and put themselves in position to make this a closer series than Anaheim would like. The way the youth of the Flames has played continues to impress. Sam Bennett's second NHL game came in Game One of the Canucks series, and he's played like anything but an 18 year old rookie (he was the fourth overall selection in the 2014 NHL Draft). He's tallied three goals and nine assists in nine playoff games. Johnny Gaudreau (21 years old) & Sean Monahan (20 years old) have combined for five goals and seven assists thus far. Anaheim got a chance to recharge the batteries on Wednesday with a trip to Banff in Alberta, and the extra day off between games for a physical team always helps. The Ducks will be looking to make things physical again, but Calgary should be getting one of their best bruisers back in the line-up tonight, Lance Bouma (264 hits in the regular season).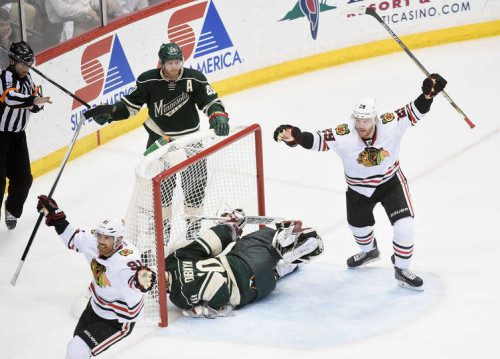 Blackhawks whisk Wild out of playoffs
-After an impressive three month run of hockey, and a first round upset of their division winners, Minnesota's season came to an abrupt end last night. A see-saw first game, a poor display in Game Two, and a Corey Crawford Game Three shutout had them facing the broom. The Blackhawks led most of the way in a tight game, but after an empty net goal made it 4-1, the Wild stormed back. They scored two goals in 51 seconds to claw within one with 1:17 remaining, but that's as close as they'd get. This is the third straight year the Wild were eliminated by the Hawks. They're a team that's definitely close to making a deep playoff run, but will need a little more. Chicago advanced to their fifth Western Conference Finals in the past seven years, and awaits the winner of Anaheim-Calgary.