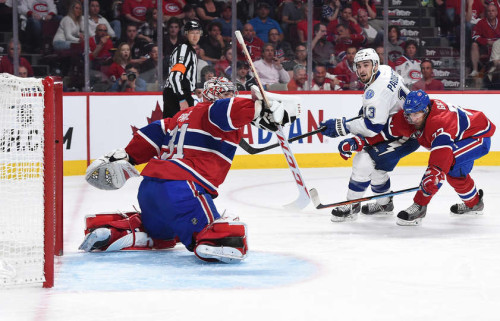 Montreal @ Tampa Bay (Lightning lead 3-2 – Game Six – 7:30PM – Amalie Arena)
-This series is a perfect example of why teams need to end a series as quick as possible, especially when they jump out to a 3-0 lead. After not beating Tampa Bay all season, Montreal dominated Game Four and pulled one out late in Game Five (P.A. Parenteau tallied the game winning goal with just 4:07 remaining) and are two wins away from becoming the fifth team in NHL history to rally from an 0-3 series deficit. Making matters worse for the Lightning is losing top-line winger Ryan Callahan, who had an emergency appendectomy Monday night, and is out indefinitely (Jonathan Drouin will likely get to dress in his place). Nobody wants to play a road Game Seven, but can you imagine what the Bell Centre would be like after three straight Habs victories? Steven Stamkos hasn't had a great series (two goals), but he did score the lone goal for Tampa in Game Five, and maybe that will get him going. Guys of his caliber need to take charge in big moments, and finishing this series at home tonight would be big for the Bolts (not having Callahan makes that all the more difficult for Stamkos). They'll need to play with a sense of urgency, and that seems to be the plan going in. Random fact – the winning team has won by a score of 2-1 or 6-2 in this series.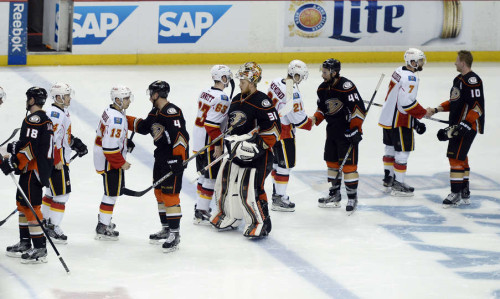 Flames' Future Burns Bright
-In Bruce Boudreau's postgame press conference, he had nothing but praise for the Flames after Anaheim advanced in five games. Normally, that's standard coach-speak protocol from a series winning coach (unless the series was really chippy), but this time it was actually meant. Calgary wasn't expected to sniff the playoffs this season and made it to the second round. There is a lot to be excited about heading in to next season on the Red Mile. They have the likely 2014-15 Jack Adams winner in Bob Hartley (twenty point improvement in the standings from last season) and the likely Calder winner in Johnny Gaudreau (25 goals & 40 assist in the regular season / four goals & five assists in nine postseason games). Their youth is only getting better (Sean Monahan, TJ Brodie, Michael Ferland), and 2014 fourth overall pick Sam Bennett (three goals & one assist in eleven playoff games – only one game of NHL regular season experience prior to that and he registered an assist in that game) should continue to excite over a full campaign in 2015-16. Karri Ramo seems to have solidified his spot as starting goalie in his second NHL campaign, and they had one of the NHL's best defenseman in Mark Giordano before he sustained a season-ending biceps injury. After the Ducks, the Pacific Division is wide open in 2015-16, and Calgary is in good position to make their mark again.