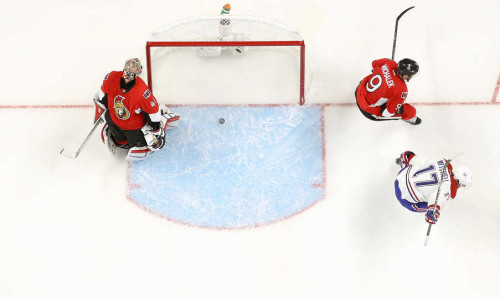 Montreal @ Ottawa – Canadiens lead 3-0 (Game Four tonight at 7PM at the Canadian Tire Center)
–Ottawa has played Montreal about as tough as anyone could in this series. But there is a huge difference between a team who had an unbelievable run of hockey just to make the playoffs, and a team who was two wins away from a Stanley Cup Final appearance last season despite not having their starting goalie for the Conference Finals. If Montreal has a late lead tonight, they need to be careful of not getting drawn in to scrums and skirmishes that could lead to suspensions for the next series. The Canadiens are up 3-0 thanks to solid goaltending from Carey Price (1.88 GAA / .939 save percentage), and a balanced offensive effort throughout their line-up. Only three guys who have played in all three games (Jacob De La Rose, Tom Gilbert & Jeff Petry) have yet to register at least one point. Senators Head Coach Dave Cameron started Craig Anderson over Andrew Hammond in Game Three for Ottawa, and Anderson should get the nod again after stopping 47 of 49 shots in Game Three.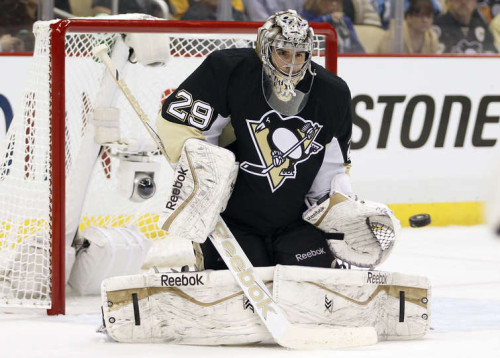 NY Rangers @ Pittsburgh – Rangers lead 2-1 (Game Four tonight at 7PM at Consol Energy Center)
-It's been a rough week in Pittsburgh (especially for GM Jim Rutherford, he and Cincinnati Reds Manager Bryan Price should go on vacation together) and it could get rougher after tonight's game. The Penguins could be trailing 3-1 to the Rangers after Game Four, and you can't blame Marc -Andre Fleury for the Penguins playoff woes (for once). The only thing that has gone right for Pittsburgh is their Penalty Kill (12 for 14, although some more discipline amongst the Pens would be nice). Evgeni Malkin has self-admittedly had a subpar series, but a strong performance tonight could change the tide of the series. As bad as the Penguins have been, they're a win away from turning this in to a Best-Of-Three. The Rangers need to do more on offense if they hope to make a run, because winning games 2-1 isn't going to carry you far (even if Henrik Lundqvist is your last line of defense). The Blueshirts Power Play continues to be a blemish on them, and getting that going could mean the difference in winning a short series for the first time since the 2008 opening round against New Jersey (five games).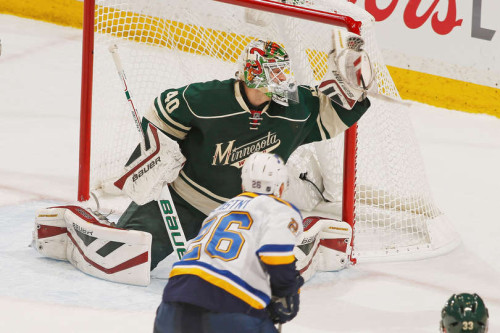 St. Louis @ Minnesota – Wild lead 2-1 (Game Four tonight at 9:30PM at XCel Energy Center)
-Channeling Rick Pitino's "Larry Bird isn't walking through that door" rant when he was the Boston Celtics head coach in the 90's, Blues Head Coach Ken Hitchcock half-jokingly said that his team could use a "Wayne Gretzky, Mark Messier, Jari Kurri, or Glenn Anderson" when asked how to fix St. Louis after their 3-0 Game Three loss to the Wild. Minnesota netminder Devan Dubnyk was sharp, making 17 saves and earning the first shutout of the 2015 playoffs. Even though the Blues goaltending situation was uncertain entering this series, Jake Allen hasn't been the issue. The Blues simply can't score at the moment, and it could lead to another early playoff exit if they don't get going tonight. Vladimir Tarasenko did his part to even the series in Game Two, but the rest of the Blues have been MIA. Hitchcock is the type of coach that wears on his players over time (Dallas, Philadelphia and Columbus all had that kind of ending for him), and it will be interesting to see if he ends up taking the fall for the Blues underachieving this Summer if they don't turn things around soon.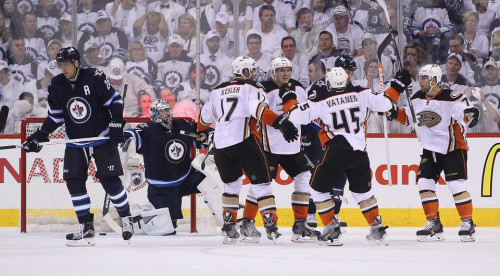 Anaheim @ Winnipeg – Ducks lead 3-0 (Game Four tonight at 9:30PM at the MTS Centre)
-Three straight games with a lead after two periods, three straight losses for the Jets. Rickard Rakell's Game Three overtime winner for Anaheim has pretty much sealed Winnipeg's fate for the 2014-15 campaign. Making the playoffs was a step in the right direction for the franchise, but learning how to finish games will be the main focus for Paul Maurice and his squad this off-season. The Jets could send this back to Anaheim for a fifth game, but I can't see them winning four in a row against this Ducks team. Anaheim's epical teams have been great in the series, going three for ten with the man advantage and they've killed off nine of their ten penalties. They've battled in every game, and elevated their game in the third period each time. With Calgary having Vancouver on the ropes, the Ducks need to seize the opportunity to make this a short series and get some rest after some physical games.