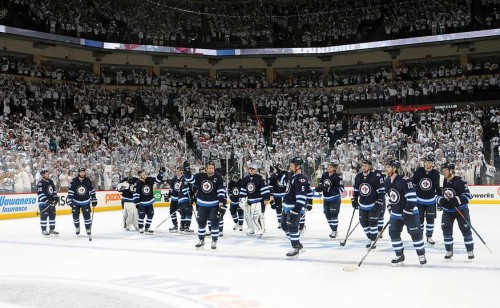 Leaving on a Jet Plane
-The Winnipeg Jets were the first team eliminated from the 2015 Stanley Cup playoffs last night, and are still looking for their first playoff victory as a franchise (remember, they were previously the Atlanta Thrashers, who were swept by the Rangers in their only playoff appearance in 2007). The Anaheim Ducks swept them, and outplayed them when it mattered in all four games. Jets head coach Paul Maurice said that at least 8 Winnipeg players were playing with "significant injuries" throughout the series. That may be true, but the Jets problem was finishing games (they blew three one-goal leads after two periods). I also think Jets Defenseman Dustin Byfuglien was too keyed in on Corey Perry. Yes, he is one of Anaheim's best players and he merits the attention of the top opposing defenseman, but it seemed to leave him out of position at times. Even in a tough division, Winnipeg has the talent to be back in the playoffs the next season. Anaheim looked like the top seed in the conference because of the way they were able to come from behind against a physical team in this series. The Ducks face the winner of the Calgary/Vancouver series.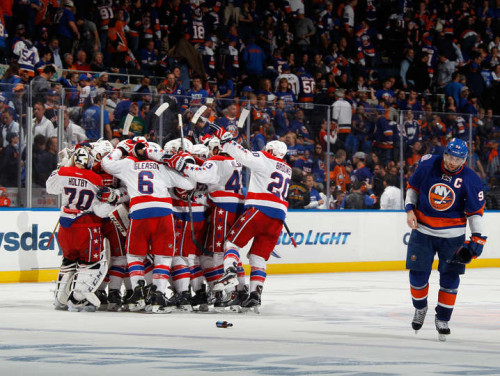 Washington @ NY Islanders – series tied 2-2 (Game Five – 7PM – Verizon Center)
-This has been the closest series of any of the eight in the opening round of the Stanley Cup playoffs. Each team has won a game in overtime, and the Capitals won Game Two by one goal. The big story out of Game Four was the Tom Wilson hit on Islanders Defenseman Lubomir Visnovsky. The lack of suspension is a bit of a head-scratcher in a league that currently cracks down on hits to the head. Wilson received a two-minute charging penalty on the play, but won't face any further discipline. The Islanders will seek justice, but they need to wait for the right opportunity, and not have it come at the expense of an odd-man-rush the other way. The injury to Visnovsky leaves the Isles very thin on the blueline, with rookie Griffin Reinhart being the replacement in the line-up for him (he only played eight NHL games this season). Jack Capuano will have to balance his defensive pairings well so Barry Trtoz can't easily expose that weakness. The Capitals haven't gotten a ton of on offense, but their top duo of Nicklas Backstrom (three goals & three assists) and Alexander Ovechkin (two goals and one assist) are making their contributions count. If the Isles want a chance to close this series out at home on Saturday, they'll need Jaroslav Halak to be excellent tonight.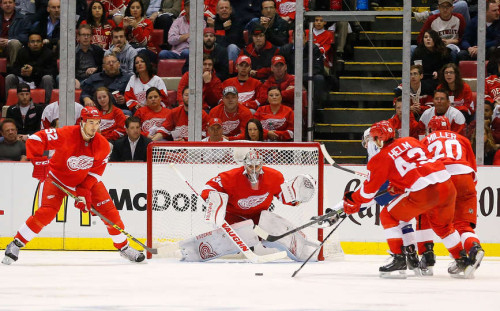 Tampa Bay @ Detroit – Red Wings lead 2-1 (Game Four – 7PM – Joe Louis Arena)
-The Tampa Bay Lightning find themselves in a precarious position heading in to Game Four in Detroit tonight. If they lose, they'll find themselves down 3-1 to the Red Wings. If they win, they've made it a Best-Of-Three series. Either way, not many people outside of Michigan expected Tampa Bay to be trailing in this series. Detroit is playing a smart brand of hockey, choosing to focus on shutting down Steven Stamkos and slowing down the speedy Tampa team (when Defenseman Nikita Nesterov is your leading scorer with one goal and two assists in the series, that's a problem). Mike Babcock continues to look like one of the best hockey coaches around with the decision to go to Pete Mrazek over Jimmy Howard (and sticking with him after his Game Two yanking) as the Wings starting netminder this series. Mrazek stopped 44 of 46 shots in the first win of the series, and pitched a 22-save shutout in Game Three. Detroit was a very average team down the stretch of the regular season, but they appear to be back to playing their brand of hockey again.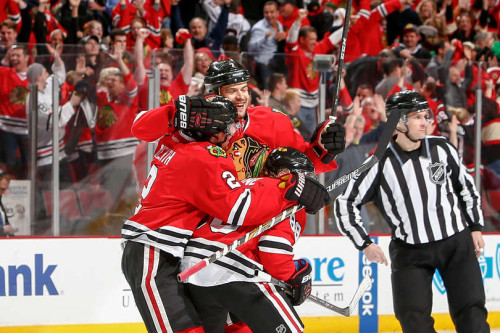 Nashville @ Chicago – Blackhawks lead 3-1 (Game Five – 9:30PM tonight – Bridgestone Arena)
-The Predators are done. They may send it back to Chicago for a Game 6, but it's over for them. It is very tough for a team to overcome two multi-OT losses in a series (especially considering they blew a three goal lead in Game One). It's even tougher when you're doing it against a team that knows how to win in the playoffs. Nashville didn't capitalize on the Blackhawks goaltending issues early in the series, and now it's far from being a problem with the way Scott Darling is playing at the moment. Chicago has an opportunity to get some rest after tonight, because the St. Louis–Minnesota series will be going at least six games. The usual cast of Blackhawks playoff performers are getting in to their post-season groove. Their top six scorers right now are Marian Hossa (five assists), Jonathan Toews (two goals, three assists), Patrick Kane (one goal, three assists), Duncan Keith (one goal, three assists), Brent Seabrook (two goals, one assist), and Patrick Sharp (two goals, one assist).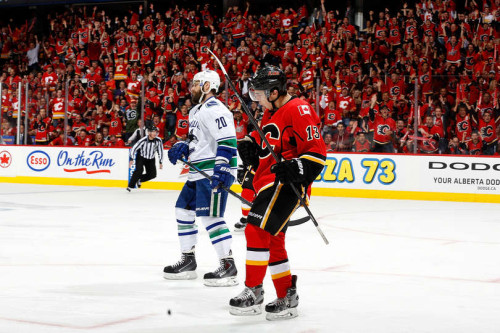 Vancouver @ Calgary – Flames lead 3-1 (Game Five – 10PM tonight – ?)
-I admittedly got the series wrong. I really thought Vancouver's veteran players would rise above the youthful Flames in this series. Instead, it's the Canucks who are a team playing like they're happy to be here, and Calgary is playing like a team that wants to make some noise in the postseason. The Flames young guns are really making an impact on this series. Johnny Gaudreau has played well (one goal, two assists), and 2014 third overall Pick Sam Bennett has scored two goals and added an assist in his first two playoff games (including the game-winner in Game Three). It looks like the Canucks will turn to Ryan Miller between the pipes tonight after Eddie Lack was pulled from Game Three (he surrendered three goals on seven shots in the first period). The Canucks will make an attempt at injecting some youth in to their lineup, with former Flame first round pick Sven Baertschi getting to dress tonight. The Anaheim Ducks are waiting for the winner of this series.
Love Reading About Hockey?

Subscribe to keep up-to-date with the latest and most interesting hockey news!
| | |
| --- | --- |
| | We hate spam just as much as you |