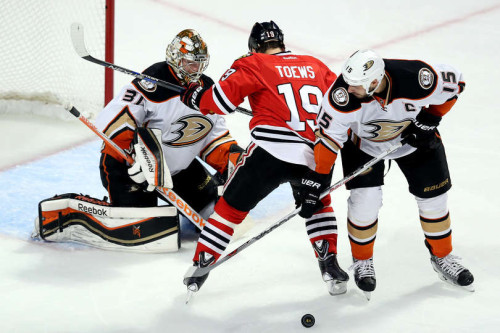 The 2015 Stanley Cup Playoffs have been fantastic from the start. The NHL's version of the Final Four has continued the run of great series, and the final piece to the Stanley Cup Final puzzle will be solved tonight (with the winner taking on the Tampa Bay Lightning on Wednesday night). This has been as about as tight a series as it gets. Other than the Ducks dominance in Game One and the Blackhawks dominance in Game Six, the other four games have been decided by one goal (with three of those going at least one overtime period). With a win, Chicago will make its third appearance in the Stanley Cup Final since 2010 (winning the prior two times), while Anaheim is looking to get back for the first time since their 2007 championship. After their worst performance of the playoffs, the Ducks will come back with a much stronger effort tonight. There's no shortage of storylines heading in to final chapter of the physical 2015 Western Conference Finals.
-Top Forward Tandems: Ryan Getzlaf & Corey Perry are the hockey equivalent of peanut butter & jelly – a long history and they work well together. Patrick Kane and Jonathan Toews have history being linemates, but Blackhawks Head Coach Joel Quenneville generally breaks them up. After having success reuniting the pair in Game Six (on a line with Brandon Saad – two goals for Saad, a goal and an assist for Kane), the big question is whether or not Coach Q keeps his top two forwards on the same line for Game Seven. The Blackhawks have plenty of quality depth to balance off having a top-heavy-top line, but with Anaheim having the last line change, it would allow Bruce Boudreau to get the match-ups he wants against them.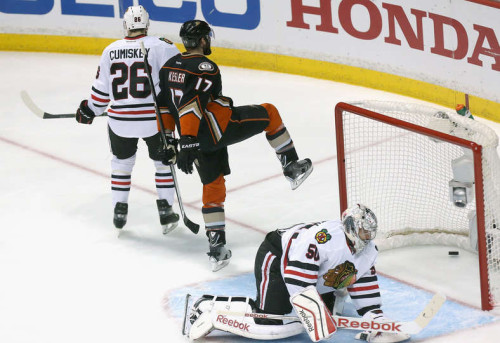 -Extra Day Of Rest: The extra day of rest allows additional healing time for the nagging bruises and soreness that accumulate over the course of a long playoff run. Considering that Anaheim loves to play a physical brand of hockey (Ryan Kesler alone has 26 hits through the six games), the extra day of rest helps Chicago a little more. Even though Anaheim blocks a ton of shots, Chicago has six players over the age of 31, while the Ducks shade closer to duckling status, with only one guy (Francois Beauchemin – 34) over the age of 31.
-The Coaches In Game Seven: The final game of a best-of-seven series has not been kind to either of the head coaches. Joel Quenneville is 1-2 in game sevens (most recently losing to Los Angeles in OT in last year's Conference Final), while Bruce Boudreau's only game seven in Anaheim was a loss in the second round of last year's playoffs (to the Kings), but he's 1-5 all time in his career (the other five games being with Washington).
-How Will Andersen Rebound: After a meltdown at the end of regulation that almost cost the Ducks Game Five, and a less than stellar performance in Game Six, Frederik Andersen needs to have a "Closer's Mentality" heading in to tonight's showdown at the Honda Center. This will also be the first time he's facing elimination in the 2015 playoffs. Corey Crawford has played well facing elimination the other night (30 saves on 32 shots), and they'll need another strong performance from him tonight.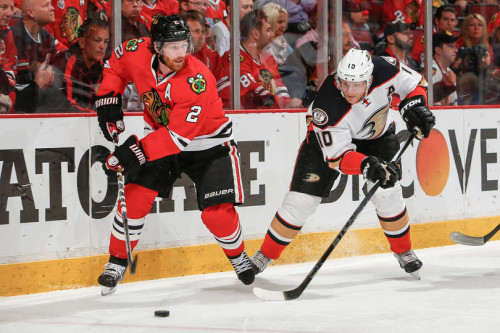 -Duncan Keith: If there has been an X-Factor in this series, it's been the Blackhawks top defenseman. Keith. While he has yet to tally a goal in the series (six assists against Anaheim, two goals and fourteen assists total for the 2015 playoffs), his three assists were crucial in avoiding elimination in Game Six, and he registered a helper in both Games Four & Five. The Ducks are well aware of what one of the league's top defenseman can do, and they'll need to limit his effectiveness to take away one of Chicago's offensive igniters.
Love Reading About Hockey?

Subscribe to keep up-to-date with the latest and most interesting hockey news!
| | |
| --- | --- |
| | We hate spam just as much as you |