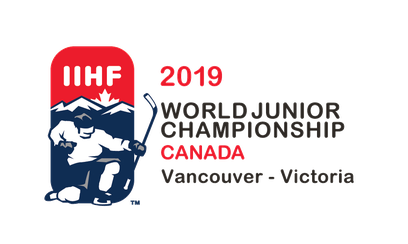 December 26th in Canada is not just the day after Christmas. It is a national statutory holiday called Boxing Day, in which you can walk into your local big box store and receive crazy discounts on electronics, much like a more polite Black Friday (nothing like a little aggressive shopping to forcibly remove your Christmas Spirit. Step aside, guy, that's my cheap TV!).
It is also a day commonly associated with Canada's sport, as it marks the beginning of the World Junior Championships, which is an incredible showcase of young, up-and-coming talent. Not to mention Canada tends to do pretty well every year. (Subtlety added for emphasis).
This year's edition is being hosted by Vancouver, with the usual contenders having pretty impressive rosters full of high-caliber prospects. Here's the players you should keep an eye out on:
Canada: Michael DiPietro – G
Highly touted goaltending prospect Michael DiPietro currently plays for the Ottawa 67s of the Ontario Hockey League. The Vancouver Canucks have his rights, and he will be looking to make an impression on his future home supporters en route to lifting Canada to a second consecutive gold medal.
Canada: Alexis Lafreniere – LW
The youngest member of Team Canada, Alexis Lafreniere has the most goals by a rookie player in the Quebec Major Junior Hockey League since fellow Rimouski Oceanic alum Sidney Crosby. Already being touted as a can't miss prospect and pegged as the number one draft pick of the 2020 draft, he is one exciting player to watch and will continue to be for years to come.
Czech Republic: Filip Zadina – LW
A winger with a fast shot reminiscent of Phil Kessel's and the 6th overall draft pick in the 2018 NHL entry draft. Zadina already potted 7 goals in last year's edition of the World Juniors and will look to avenge a demoralizing 9-3 loss in the Bronze medal game to the United States.
Denmark: Jonas Rondbjerg – LW/RW
The versatile winger is one of only two members of the Danish national team who have been drafted in the NHL. The Danish don't normally perform too well, but Rondbjerg may be one of the bright spots from an otherwise rough world juniors for Denmark.
Russia: Alexander Alexeyev – D
A sturdy blueliner and a Washington Capitals prospect. Alexeyev will be looking to bring Russia back to the medal round since missing out last year. He is under contract with the Washington Capitals but plying his trade with the Red Deer Rebels. Let's not forget Washington's track record with highly touted Russian prospects…
Switzerland: Philipp Kurashev – C
It would be fairly silly to downplay the Swiss, as they are often surprising and, when underestimated, can sneak up on teams. Philipp Kurashev currently produces at more than a point-per-game rate as a member of the Quebec Ramparts and is a Chicago Blackhawks prospect. If the Swiss are to shock teams, look for Kurashev on the ice, as he is sure to figure into their success.
Finland: Ukko-Pekka Luukkonen – G
The starting goaltender for the Sudbury Wolves of the OHL, Luukkonen is fast in his lateral movement, and covers a lot of the net with his low butterfly. He is equally quick with the glove, continuing the legendary tradition of amazing Finnish goalies. Look for him to backstop Finland to a respectable finish in this world juniors to impress his NHL club, the Buffalo Sabres.
Kazakhstan: Valeri Orekhov – D
Kazakhstan is a shoe-in for relegation. He's the only one with an Elite Prospects profile so…
Slovakia: Martin Fehervary – D
A hard-hitting, smart defenseman currently playing in HV71 of the Swedish Hockey League. He was drafted 46th overall by the Washington Capitals, touted for his positioning and his ability to break up plays consistently and to deliver devastating hits at the right time.
Sweden: Adam Boqvist – D
A current member of the NHLer machine known as the London Knights, the 8th overall draft pick of the 2018 NHL entry draft will be looking to make a splash in this year's edition. He is a smooth-skating defenseman with quick hands, and an offensive defenseman the likes of Erik Karlsson. Look to him to be a standout in an otherwise impressive Swedish defensive corps as they contend for the gold this year.
Sweden: Jacob Olofsson – C
The reigning holder of the Guldgallret (top junior player in the Allsvenskan, the second-tier of the Swedish Hockey system), Olofsson has a quick shot and is a crafty player, noticed by the Montreal Canadiens, as he was drafted 56th overall by them. He helped his team, Timra IK, achieve promotion into the Swedish Hockey League. A capable offensive power, look for Olofsson to make an impressive world juniors debut.
USA: Quinton Hughes – D
A member of last year's bronze-medalling US squad, Hughes is also a Vancouver Canucks prospect looking to make a big impression on his home supporters. He is considered an elite prospect, and a game-breaking defenseman. The big centerpiece of the University of Michigan hockey team, Hughes is as skilled defensively as he is offensively, and will be looking to improve his and his country's performance from last year. Mark your calendars for December 29, as he is certain to show up for a big game against fellow contenders, Sweden.
USA: Jack Hughes – C
Brother of the above-noted, also considered to be a can't miss prospect. Jack Hughes is projected in many circles to be the first overall draft pick of the 2019 NHL Draft, and a shoe-in for a new Ovechkin-Crosby type rivalry with Alexis Lafreniere, also noted above (unless somehow Edmonton drafts them both…). A member of the USA National Development team, he is a talented forward with the ability to take over games. It helps that brother dearest is also on the team to help.
Tune in tonight at 1:00 PM PST to watch the opening faceoff between Czech Republic and Canada!
Can't Miss games:
December 26, 7:30 PST: Finland vs. Sweden
December 29, 7:30 PST: Sweden vs. USA
December 31, 5:00 PST: Canada vs. Russia
Love Reading About Hockey?

Subscribe to keep up-to-date with the latest and most interesting hockey news!
| | |
| --- | --- |
| | We hate spam just as much as you |