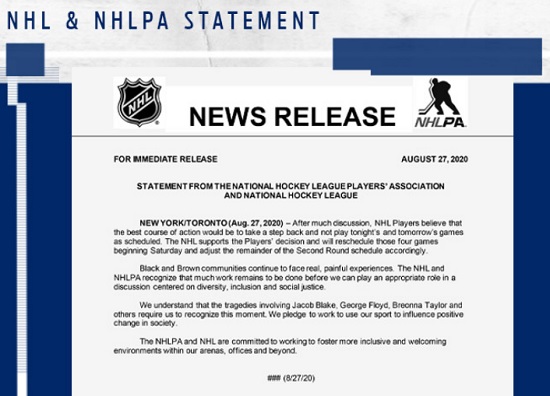 Earlier today, a meeting took place between the NHLPA and NHL in regards to postponing games as a form of protest against systemic racism and police brutality. The NHL decided on postponing all games Thursday and Friday after players on all eight remaining teams made it clear they would like to unite with other leagues in this cause.
"They understand the importance of the playoffs, but they also understand where the world is right now and what happened yesterday," Trotz said before the decision not to play. "We weren't really quite informed what was happening (on Wednesday); we were playing when all this happened, and then as you get to digest it, I think what happened last night is a great statement for the athletes. They have a great platform, and they used it."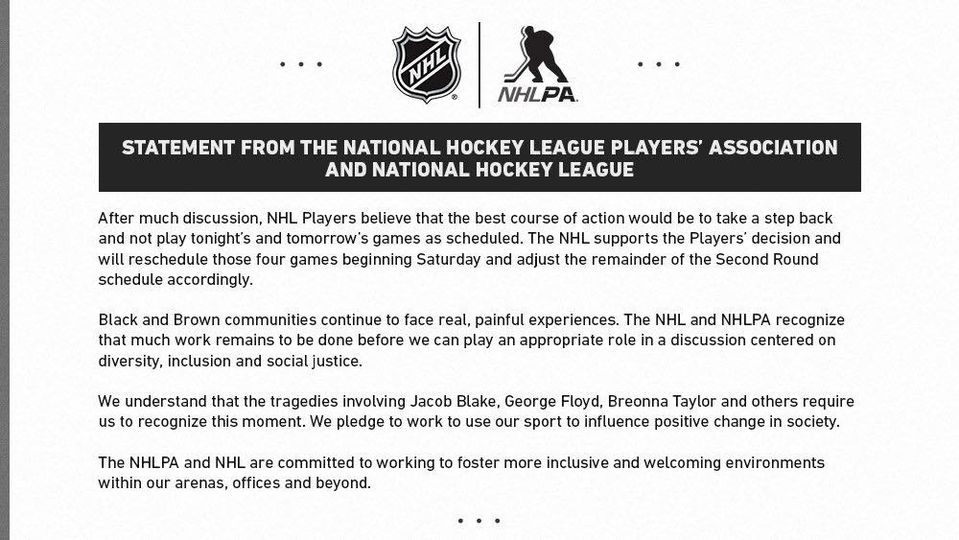 As it stands currently, the NHL looks to resume the second round of the Stanley Cup Playoffs this Saturday the 29th. However, there is yet to be an official confirmation on which teams will play that day. It can be assumed as seen on the schedule that perhaps it will be Game 3 of the Philadelphia Flyers vs New York Islanders and Game 3 of the Vegas Golden Knights vs Vancouver Canucks since these were to be Thursday's games originally.


"I don't think anything feels right right now," Lightning coach Jon Cooper said Thursday before the postponements. "So much education that needs to go on. I know that the players, they battle hard on the ice, they compete against each other, they also stand together too. As an organization, as a League — I don't know how to say it — these events are happening, and I think it's time to digest. It's hard for me to answer right now.
"I said last night one night of sleep is not enough to digest. I know since communicating with our team and being open with what's going on, I think that's a good step for us moving forward and we'll see what happens here."
Love Reading About Hockey?

Subscribe to keep up-to-date with the latest and most interesting hockey news!
| | |
| --- | --- |
| | We hate spam just as much as you |