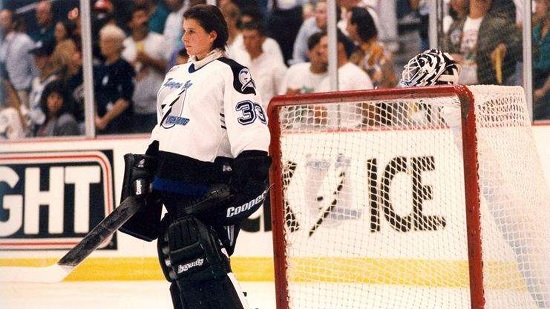 29 years ago today, Manon Rheaume became the first woman to play in any of the major North American professional sports leagues when she suited up during an exhibition game with the Tampa Bay Lightning. The Lightning faced off against the St. Louis Blues, where the 20-year old goalie played one period and allowed two goals on nine shots.
"Now, looking back, I realize how big of a deal it was," Rheaume said to NHL.com in early 2019. "When I was young and got invited, it happened so fast and I didn't realize really the impact I would have on people, on history, on everything when I went there. I just went because it was amazing to play at the highest level. Now, looking back, no other female has done that, and not only in hockey, but the four major sports."
Before her debut in the NHL, the Quebec native was the first female goaltender to play for a boys' team in the 1984 Quebec International Pee-Wee Hockey Tournament. She was also the first woman to play in a men's Major Junior hockey game when she was signed to the Trois-Rivieres Draveurs for the 1991-92 season.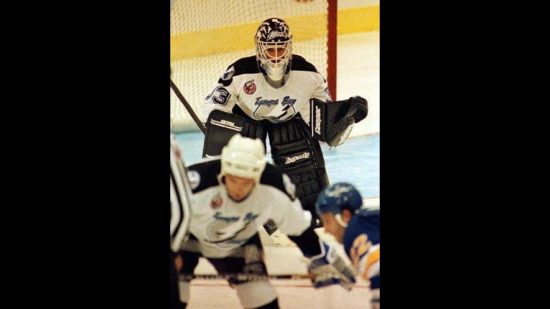 After her game with the Tampa Bay Lightning in 1992, Rheaume played in another preseason game in 1993 facing off against the Boston Bruins.
"Through the years, having so many people come up to me, telling me that I inspired their daughter or son, or someone saying, 'I had your poster on my wall,' that makes me realize my story impacted a lot of people in a positive way," Rheaume told NHL.com.
1992 was a huge year for Rheaume, not just because of her historic game on September 23rd. She was chosen to Canada's national women's ice hockey team, where she won a gold medal and was named to the All-Star team (the same in 1994). Rheaume was signed by the Atlanta Knights in the International Hockey League which made it the first time a woman appeared in a regular-season professional game. She played for seven different teams in the IHL and played 24 games in total in her pro career.