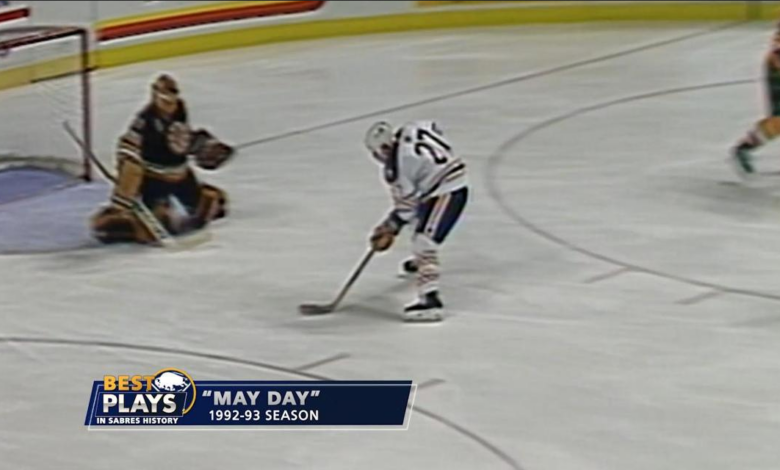 You've heard Rick Jeanneret's famous call. You undoubtedly remember the goal: Pat LaFontaine collapsing as he tosses the puck up to Brad May, May slipping the puck between Ray Bourque's legs as he cuts towards the net, and the joyful mad sprint up the ice.
But what else do you remember about the events of Game 4 of the 1993 Adams Division Semifinals? The strain from a decade of playoff failures? The Sabres' turbulent finish to the regular season? What about the comeback that enabled May's goal in the first place?
Dave Poulin's shorthanded goal at 2:13 of the second period gave the Bruins a 5-2 advantage. A series sweep over their adversary would necessitate a comeback by the Sabres.
Fortunately, the Sabres possessed enough of firepower in 1992-93. LaFontaine and Alexander Mogilny had just finished record-breaking regular seasons with 129 goals and 275 points combined. Dale Hawerchuk was a brilliant playmaker. Both Khmylev and Sweeney scored 20 goals.
They worked together to chip away at Boston's lead. In the second period, Donald Audette scored to make it 5-3. May assisted on Mogilny's goal midway through the third period, and Khmylev, the Game 3 hero, knotted the game less than a minute later.
"We literally were out of that game," May said. "Boston, the best team in the league at that time, obviously starting to get momentum. We turned the corner. It was awesome. When we were down and out, we found a way to fight back and survive and get into that extra time in overtime. "
It culminated in arguably the most famous goal in Sabres history, scored 4:48 into the extra period.
"It was pretty amazing, I was playing with Pat LaFontaine and Alexander Mogilny," May recalled. "The breakout pass was Doug Bodger to Patty. I came across on a route that we all would practice every day. I got a great pass from a falling Pat LaFontaine.
"And then, honestly, I remember the images. I've heard the call so many times. I don't know if I remember it live, but I was able to put the puck between Ray Bourque's feet. He's a Hall of Famer, I beat him, which was pretty cool. But it was a moment of time."