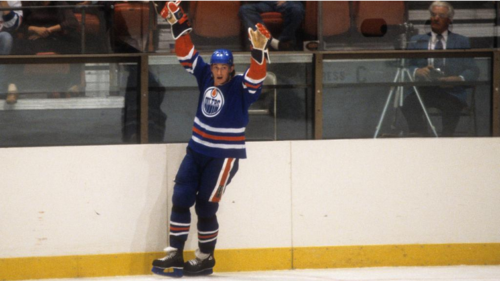 Wayne Gretzky scored his 92nd and final goal of the 1981-82 NHL season in the Edmonton Oilers' 6-2 win against the Los Angeles Kings at the Forum in Inglewood, California.
Despite the fact that his 92 goals were 16 more than the previous record set by Phil Esposito in 1970-71, Gretzky admitted years later that he was disappointed he didn't score more. In Edmonton's final two games, he has four assists but no goals.
"It was a thrill to get 92 goals, but in some ways, I thought I let myself down by not getting 100," he says. "Maybe I should have pushed myself more."
Gretzky gave himself a shot as he entered the last 14 games with 82 goals. He need to average 1.28 goals per game to get him to 100. Up to this point Gretzky had been averaging 1.05 goals per game. It would take something special, but he had a shot at it.
However, a stretch of games at the start of March would prove costly for Gretzky trying to get to 100 goals in a season. The Edmonton OIlers lost 6 games in a row to begin March, where Gretzky scored zero goals. Only twice before had Gretzky gone more than one game without a goal – the two games to start the season, and four games in a row in early December.