Featured
5 Home Gym Essentials for Strength Training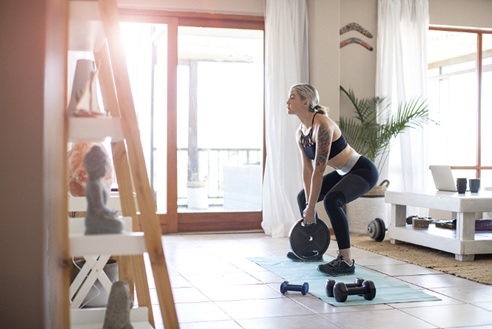 If you are looking to elevate your home workout to a higher level, building a home gym is a smart choice.
Even though a home gym initially requires a relatively large investment, it can last for many years with high-quality equipment, making it much cost-effective than a gym membership in the long term.
To build a proper home gym for strength training, you need 2 basic things: adequate space to train and essential resistance equipment to train with.
It is well-known in the fitness industry that resistance training is the most comprehensive and effective method of building muscle, boosting strength and improving overall health.
When you search home gym equipment for strength training, you could be lost in a sea of options and confused about what to purchase.
It should be noted that a lot of equipment is indeed great and useful, however, they are not essential.
Remember, the core of a home gym should be those gear that you can use often and achieve a large variety of strength-improving movements.
To set up a functional home gym to perform effective full-body workouts, these 5 essential in-home gym items are what you should end up buying.
Good-quality Barbells
The barbell is definitely the most indispensable item of weight training.
The barbells you frequently see on the squat racks and bench press stations are the standard training barbells – Olympic weight lifting barbells.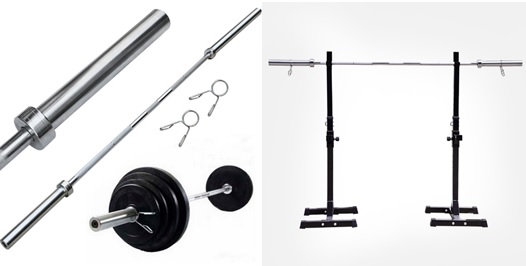 They are straight bars that typically range from 6.9 to 7.2 feet (2.1 to 2.2 meters) in height and weigh between 15 to 20 kilograms (33 to 44 pounds) which can be used for a wide range of fundamental liftings, such as the squat, deadlift, bench press and so on.
An Olympic barbell can be loaded with a great number of weights, practical for bursts of exercise.
For those who find Olympic barbells are too long or too heavy, the EZ-Curl bar, which is shorter and resembles a bent "w" shape, is a great alternative for back and glute exercises and as its name suggests, it is also great for biceps and triceps curls.
The undulating handle of an EZ-Curl bar helps reduce stress and provides optimal comfort for your elbows and wrists.
For gaining strength, you need to add more weights to the barbell, then there is no better than choosing a barbell weight set, which includes 1 EZ-Curl barbell and 6 weight plates as well as 1 pair of star lock collars, perfect for your everyday workout.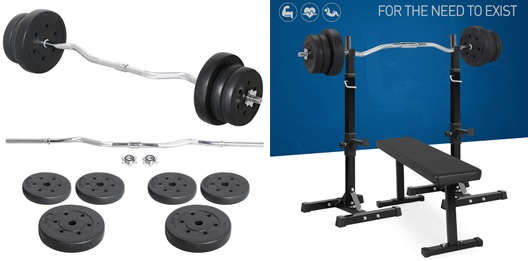 A Power Rack
The second one comes probably the most expensive piece of equipment. But trust me, this big investment of a power rack is worth it and you won't regret it.
A power rack is a multi-functional weight training equipment with four vertical posts and two adjustable horizontal pins on each side, which gets your barbell into position and provides you with customized depth for complex barbell movements like deadlifts, squats, pull-ups, push-ups, bench press, overhead press and many more.
One of the outstanding features of a power rack is its safety. A safe lift without the risk of severe injury is especially meaningful when you train alone.
With a power rack, you can place your barbell at a suitable height to better control it without lifting it from the ground which may limit the weight you can lift.
Additionally, a power rack allows you to drop the barbell safely on the bar catches on both sides.
The users' need for great weight capacity and the steel nature make the quality of a power rack is of great significance.
Have a closer look at the gauge and thickness of the steel when purchasing and make sure it's durable for many years of use.
If your room is a bit cramp for accommodating a power rack, a simple squat rack is an ideal alternative as it not only requires a much smaller space but is also versatile for completing diverse movements.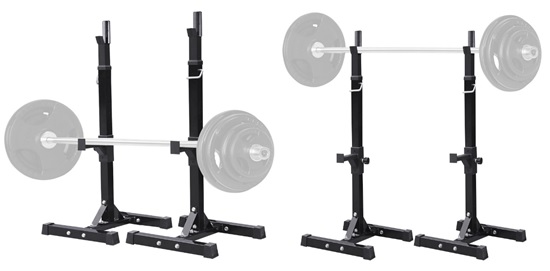 Adjustable Dumbbell
Dumbbells are also highly useful for resistance training.
They give you more flexibility to activate many different muscles even including those that are not activated by barbells and provide you with lighter weights to better maintain correct forms of movements.
More importantly, dumbbells are essential for isolation movements like a one-arm overhead press or a split-leg goblet squat, etc., focusing the center of gravity on one limb at a time and improving strength imbalance.
Thus, dumbbells are beneficial in enriching your training with movements that are different from those with a barbell, serving as excellent complement equipment for the barbell.
Adjustable dumbbells are perfect for a home gym since not everyone has room and money for an entire gym set.
Thanks to the smart and ultra-compact form, an adjustable dumbbell set won't clutter your garage and allows you to adjust the weight by easily changing the weight plates to fit your exercises.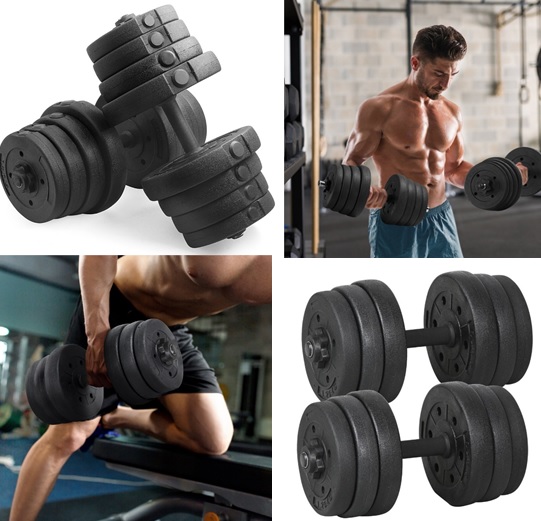 A Set of Weight Plates
Weight plates are critical for your lifting.
A barbell is meant to be used along with weight plates. Plus that a single barbell is very likely too light for you to perform meaningful exercises and limits your growth of strength and muscle.
Therefore, weight plates are primarily used for supplementing the use of barbells.
Weight plates are usually sold in a set. When choosing the weight plates, be mindful of ensuring they match your barbells.
The standard size of weight plates is a 1-inch diameter hole regardless of weight that fits standard Olympic-sized barbell. The heavier the plate weighs, the wider the plate is.
In terms of the material, there are three main types of weight plates, namely iron metal plates, rubber encased plates and bumper plates.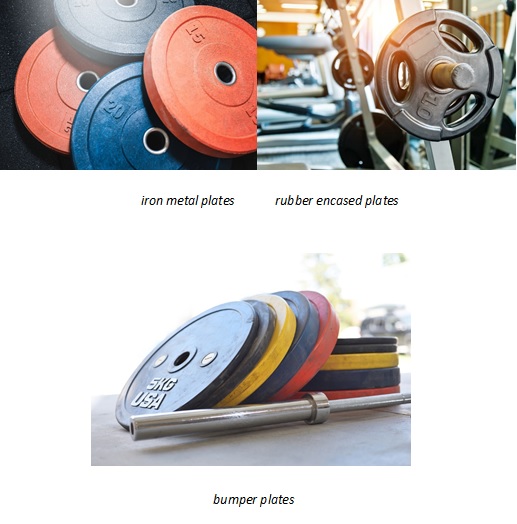 With a smooth rubber finish, rubber encased plates and bumper plates are better options for reducing noise and protecting your floor.
For organizing and storing your weight plate set, a weight plate rack is a great solution.
With a weight plate rack, you can keep both your weight plate set and barbells in place, creating a tidy home gym.
Another significant component to complete your home gym setup is an adjustable bench, which gives you stable support for weight lifting and enables you to effectively target a variety of muscle groups.
Most importantly, a workout bench allows you to perform exercises that cannot be conducted without one. Essential exercises like bench press, bench fly, bench row and hip thrust jump into mind in no time.
Apart from these basic exercises, a solid adjustable bench is also versatile for a wide array of other strength-building workouts with numerous back positions and seat positions which can be easily adjusted by pulling a fast bolt and automatically locked for your safety.
Whether flat, incline or decline positions, there's always a comfortable one for you to perform effective exercises.
Last But Not Least
Once you build your home gym with the above 5 essential equipment, you've got access to effective resistance training at home for years.
However, the most essential of all is your determination, perseverance and persistence.
If you don't use your home gym regularly, everything will become a waste even if you have the best gym in the world.
So start building your home gym with these essentials and don't forget to make a specific training plan and STICK TO IT! You will appreciate the amazing you with a strong and healthy body.
Have fun on your fitness journey!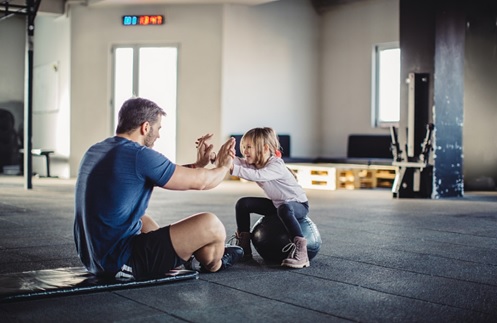 About Costoffs
Costoffs is a cross-border e-commerce company established in 2003 with more than 500 employees worldwide.
With our own 39 warehouses around the world, we provide a wide range of products with fast delivery to millions of customers in more than 10 countries, available on Amazon, Walmart, eBay, Wayfair, Wish, Cdiscount, ManoMano, OTTO, Rakuten, Real and more.
We devote ourselves to make your life comfortable.