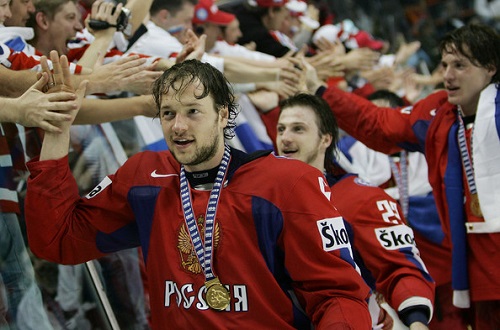 When the host Russians released their roster for the Olympics happening in less than 30 days, the focus on this side of the Atlantic was on the North American teams' selections and snubs. Not many noticed that the Federation's roster is built with ten players (40 per cent of the team) currently employed by the Kontinental Hockey League. Of course, Alexander Radulov and Ilya Kovalchuk, both playing in the KHL, are familiar names as they spent a considerable amount of time with the Nashville Predators and New Jersey Devils, respectively. But who are the remaining eight? And, perhaps a better question — are they a cause for concern for other nations? Especially considering the talent and depth the Russians already possess. Only time will tell, but in the meantime, meet the eight Russian Olympic players you've likely never heard of … unless you're a KHL or international hockey aficionado — then you definitely know these men.
Alexander Yeryomenko (5'10, 165 lbs – born in Moscow, Russia) – selected as the third-string goaltender for Russia
Alexander Yeryomenko (A.K.A Eremenko), 33, is the starting goaltender for the powerhouse Moscow Dynamo of the KHL. In 177 career games, split between the Salavat Yulaev and Moscow Dynamo, he's posted a .927 save percentage, a 1.95 goals against average and 21 shutouts. In 27 games this season, he has a .932 save percentage and 1.84 goals against average. His international experience is highlighted by winning one of every medal (including two golds) at the World Championships. His pro-team success? Three Gagarin Cups (KHL Stanley Cup equivalent) in a row dating back to the 2010-11 season. Yeryomenko was also a reserve player for the Russian 2010 Olympic team. Sergei Bobvrovsky and Semyon Varlamov will likely get first chances at starting the tournament, but, if they for some reason cannot get the job done, Yerymomenko will surely get a shot given his international and professional track record.
His scouting report on eliteprospects.com reads:
A small and quick goalie who moves well sideways. Very good reflexes. An experienced goalie who has played in a lot of international tournaments. (Matias Strozyk)
Yevgeni Medvedev (6'3, 198 lbs – born in Chelyabinsk, Russia) – One of eight defensemen selected for Russia
Yevgeni Medvedev, 31, plays for Ak Bars Kazan of the KHL. He's solid defensively, and can also contribute offensively. He has 28 goals and 98 assists for a total of 122 points, and is a career plus-93 in 278 career KHL games. Over that span, he's won two Gagarin Cups and averaged 20:42 TOI. In two World Championship appearances, he's notched 11 points in 18 total games and won gold as a member of the 2012 team. This is Medvedev's first Olympic selection. Medvedev is the seventh defensemen and will potentially draw into the line-up, but may not see a whole lot of ice time.
His eliteprospect.com scouting reports says:
A large, yet very mobile and smooth skating defenseman. Medvedev sees the ice well and has good hockey sense. He can pass really well, but also possesses a hard shot. Could play a more physical and aggressive game given his size.
Ilya Nikulin (6'3, 216 lbs – born in Moscow, Russia) – Another blueliner on the Russian squad headed to Sochi
Nikulin, 31, is the captain of the Ak Bars Kazan KHL team. He's accumulated 184 points in 296 career KHL games and has won two Gagarin Cups, but his international experience speaks for itself with three gold medals at the World Championships. Nikulin represented Russia at the 2010 Games in Vancouver. He's expected to play into the team's third defensive pairing alongside Columbus Bluejackets blueliner Nikita Nikitin.
eliteprospects.com:
A large defensive defenseman with good physical game. Takes a lot of offensive responsibility. Good on powerplay. (Matias Strozyk)
Denis Kokarev (5'10, 174 lbs – born in Tver, Russia) – One of two extra Russian forwards
Twenty-eight-year-old Denis Kokarev may not see much ice time in these Games, but his experience from representing Russia twice, including a gold medal in 11-12, at the World Championships was enough to crack the squad as an extra. He put up 25 points in the Moscow Dynamo's last 39 playoff games and helped them to two Gagarin Cups in that span. Regardless of whether or not he gets to hit the ice, this will be Kokarev's first Olympic Games.
Bleacherreport.com:
A shifty winger who can play both sides of the ice. Has limited offensive ability. – Carol Schram
Sergei Soin (6'5, 205 lbs – born in Moscow, Russia) – Russia's second reserve forward
Soin, 31, has dealt with injury issues this season and has only appeared in 20 games for Moscow Dynamo — the team he's won two Gagarin Cups with. The large forward played the majority of his KHL career with Severstal Cherepovets, a western conference rival of the Dynamo. Soin has played in two World Championship tournaments. In the 2000 NHL entry draft, Soin was selected in the second round by the Colorado Avalanche. Sochi will be Soin's first Olympics.
bleacherreport.com:
Versatile as he can play either right wing or center. – Carol Schram
Alexander Popov (5'10, 181 lbs – born in Angarsk, Russia)
Popov, 33, won gold at the World Championship in 2011-12. He's almost a point-per-game player there with 16 points in 18 WC games, and has 182 points in 274 regular season KHL games all played with Avangard Omsk. Popov will bring his international and playoff experience to his first Olympic games in Sochi, and is projected to play on the nation's fourth line.
Bleacherreport.com:
A two-way player and who can cover the left side or middle of the ice. – Carol Schram
Alexei Tereshchenko (5'11, 183 lbs – born is Mozhaisk, Russia)
Tereshchenko, 33, is a veteran of international competition with 53 games played over six World Championship tournaments. He scored the tournament-clinching goal to give the Russians a gold in 11-12, their third in the previous five years. With his club team, Ak Bars Kazan, he won the Gagarin Cup in 08-09. Tereshchenko is projected to play on the fourth line between Popov and Viktor Tikhonov at his first Olympics.
eliteprospects.com:
A small, well skating and creative center. Skates fast even in high traffic. Creative with the puck and works hard. A good team player. A two-way player with good defensive skills. Not very strong. – (Matias Strozyk)
Viktor Tikhonov (6'2, 187 lbs – born in Riga, Latvia)
Tikhonov was drafted in the first round (28th overall) by the Phoenix Coyotes in 2008 and did make their roster the next season, but was sent down to their AHL affiliate San Antonio Rampage after putting up just 16 points in 61 games. The very next season, Tikhonov started in the AHL but elected to be loaned back to the KHL to improve his play. He was eventually re-signed by Phoenix in 2011, but resides in the KHL playing (and recently named captain) for SKA St. Petersburgh with Olympic teammate Ilya Kovalchuk. The grandson of the famous Viktor Tikhonov Sr. has performed exceptionally in playoff situations dating back to his KHL-leading 10-goal playoff run at the tail-end of the 2012-13 season.
eliteprospects.com:
Tikhonov is a forward with fine offensive ability. He has good hockey sense and skates really well. Can both make plays and finish them himself. Has solid defensive acumen and the ability to play both wing and center.
– Ulf Andersson
Though these players do not have overwhelming statistics, they should not be underestimated based on their experience and their ability to perform under pressure alone. Russia will compete, and they'll compete for gold — much like they do on every international stage in any given year.