Featured
Other Leagues
A Life Cut Short: 19-Year-Old Hockey Prospect's Passing Leaves Community in Mourning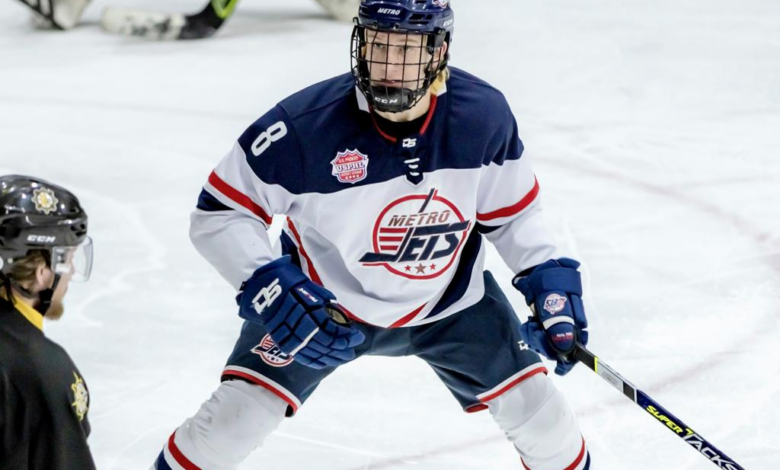 The USHL announced this morning that 19-year-old defenseman Braydin Lewis has passed away.
Lewis, a defenseman for the Metro Jets of the USHL, the country's top junior league, died of cancer while surrounded by family.
Despite his diagnosis, Lewis insisted on playing hockey until the end.
"After his diagnosis last summer, he was determined to return for his third season," wrote the Jets on Sunday.

"Not only did he return, but played while undergoing treatment. Lewey's strength and willingness was an inspiration to the team and he showed up to support his teammates at every opportunity."
It is with heavy hearts to share the news that our warrior, Braydin Lewis, lost his battle with cancer late last night with family by his side.

Lewey started with the Jets in 2020. The defenseman was a force to be reckoned with, was a fan favorite and beloved by everyone. pic.twitter.com/h0RgDtZVAj

— Metro Jets Hockey (@MetroJetsHockey) April 16, 2023
Rest in peace to an incredible and resilient young man.
It is with heavy hearts to share the news that our warrior, Braydin Lewis, lost his battle with cancer late last night with family by his side.

Lewey started with the Jets in 2020. The defenseman was a force to be reckoned with, was a fan favorite and beloved by everyone. pic.twitter.com/h0RgDtZVAj

— Metro Jets Hockey (@MetroJetsHockey) April 16, 2023