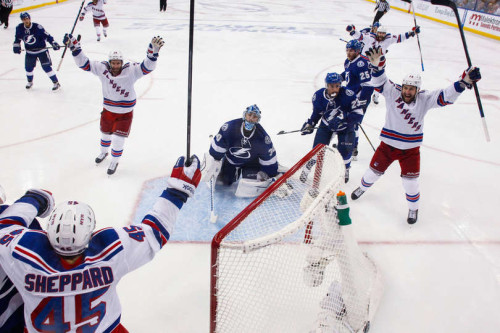 First series; five games, 19 total goals scored, two overtime periods, all one-goal games. This is the way the New York Rangers bounced the Pittsburgh Penguins, with all their victories coming off narrow, exciting 2-1 games. Derrick Brassard, Ryan McDonagh and Rick Nash emerge as the statistical leaders of the team, as they dominate the sputtering Penguins en route to a second round clash against the Washington Capitals.
Second series; seven games, two more overtime periods, 25 total goals scored, once again, all games are won by the slimmest margin. Despite going down 3-1 in the series, the New York Rangers rallied to take the series in 7. It is worth noting that by this point in the playoffs, neither the Penguins nor Capitals have managed to put more than 4 goals past Henrik Lundqvist, but the New York Rangers haven't dominated the score-sheet, with all victories and defeats coming off one-goal differences.
Turn the page, the Eastern Conference Finals begin. With game seven scheduled for 8PM EST this Friday. Before this series, no Rangers games had seen more than 7 goals scored, with other series in the East peaking out at the same number (only Tampa Bay and Montreal exceeded that in the East before the conference finals, scoring a total of 8 goals in games 2 and 4, both 6-2 routs for each team). In comparison to the Western Conference, the Eastern was showing more defensive capabilities, or perhaps less offensive firepower.
The case is no more. After game 1, it looked like the New York Rangers were going to be content taking the slim lead back and forth to the Tampa Bay Lightning, but King Henrik was finally lit up in these playoffs in games two and three, when he conceded 12 goals in those two games. With all of Tampa Bay's firepower, the Rangers have proven to be resilient, with Martin St. Louis and Rick Nash finally finding the back of the net to keep them on pace with the Lightning, en route to forcing game seven Friday night. Their offensive outburst in game six led to a 7-3 rout of the Lightning to bring the series back home to the Madison Square Garden. In fact, the 40 goals so far we've seen ties the series for the highest scoring series with Chicago and Nashville's first-round series, and the first time in the playoffs that the East has outscored the West.
Whether the Rangers and Lightning show up guns blazing or it's a tense one-goal game is hard to predict; either way, whoever wins this series will ensure that the Eastern Conference sends its very best representative to the Stanley Cup Finals.
Love Reading About Hockey?

Subscribe to keep up-to-date with the latest and most interesting hockey news!
| | |
| --- | --- |
| | We hate spam just as much as you |