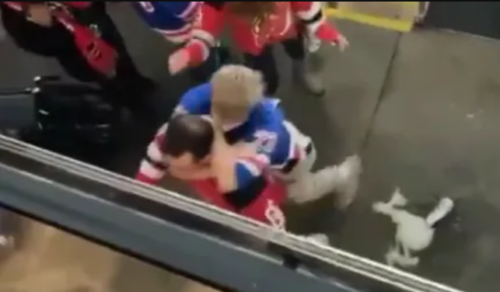 Now that the New Jersey Devils have fought back and even seized the series lead, the New York Rangers and New Jersey Devils opening round series is beginning to heat up significantly, and unfortunately that can lead to things occasionally getting a little too intense.
This week, a fight between two opposing fans was captured on camera, providing us with a prime example of that. The video shows what appears to be a verbal altercation between two fans, one sporting a Devils jersey and the other a Rangers jersey. Although we don't know what started the argument, it's probably fair to assume that the two parties' support for different teams was a contributing factor. However, it seems like the Devils fan is the one who takes the argument to a violent conclusion.
In the footage, we can see the Devils fan slap the Rangers supporter's drink, which causes the Rangers fan to grab the Devils fan by the neck and immediately choke him to sleep. In a somewhat ironic turn of events, the Devils fan stumbles to the ground and drops his beer all over himself.
The Devils fan had numerous opportunities to avoid the altercation, including a woman who kept attempting to draw him away, but instead collapsed to the ground in front of thousands of spectators, both in person and now online.
If you're going to attend a Stanley Cup playoff game this season, don't be this guy.
i hate ranger fans as much as the next guy but this idiot had it coming #NJDevils #NYR pic.twitter.com/3hWeRCRIez

— 𝑁𝑜𝑘𝑒𝑠 シ (@ixNOKES) April 29, 2023