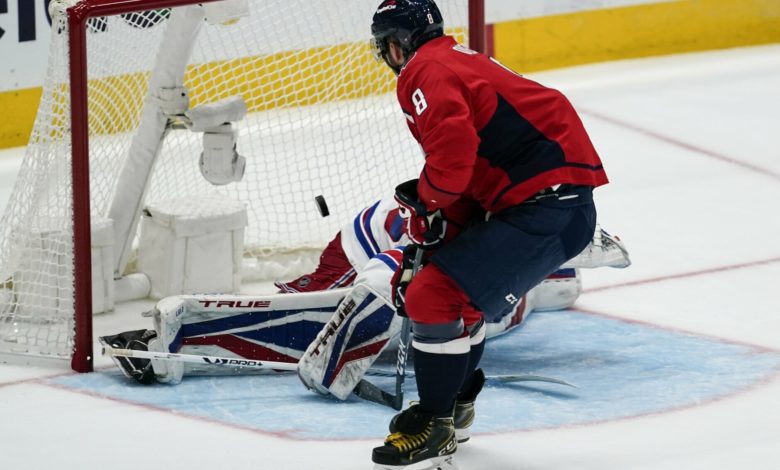 Alex Ovechkin passed Marcel Dionne for fifth on the NHL goals list when the forward scored Nos. 731 and 732 in the Washington Capitals season opener against the New York Rangers at Capital One Arena on Wednesday.
Ovechkin tied Dionne when he scored a power-play goal at 2:37 of the third period to give Washington a 4-0 lead. He scored shorthanded at 12:01 to pass Dionne with the final goal of the 5-1 victory.
"I just enjoy my time. Of course, it's a huge privilege being on that list, but how I always say, game by game, day by day," Ovechkin said.
The 36-year-old has scored 732 goals in 1,197 regular-season games during 17 seasons with Washington, which selected him with the No. 1 pick in the 2004 NHL Draft. Dionne, a 1992 Hockey Hall of Fame inductee, scored 731 goals in 1,348 games over 18 NHL seasons with the Detroit Red Wings, Los Angeles Kings and New York Rangers before retiring in 1989.
Alex Ovechkin scores his second goal of the game and the 732nd goal of his career, passing Marcel Dionne for the fifth-most goals in NHL history. pic.twitter.com/DB69EbxHoM

— CapitalsPR (@CapitalsPR) October 14, 2021
"I knew you were going to pass me," Dionne said in a video played in the arena. "I knew at 700. But what's important of this whole thing, it's respect. You have a special quality. You're a pure goal-scorer. It's incredible."
The power-play goal was Ovechkin's 270th in the NHL, moving him within four of Dave Andreychuk's record.
Ovechkin played in the Capitals season opener after being a game-time decision because of a lower-body injury he sustained in Washington's preseason finale against the Philadelphia Flyers on Friday. Ovechkin led the Capitals with 24 goals in 45 games last season despite missing an NHL career-high 11 games: four while in NHL COVID-19 protocol and seven with a groin injury.
Ovechkin passed Mike Gartner for seventh on the goals list by scoring his 709th against the Rangers on Feb. 4 and passed Phil Esposito for sixth by scoring his 718th against the New York Islanders on March 16.
"It doesn't get old and it really is special to be here for these milestones, to be his teammate for these milestones," Washington forward T.J. Oshie said. "I joke around with him that I'm going to tell my grandkids that I played with the Great Eight. We're joking around, but it's definitely true. It's really an honor to be there while he's passing these legends of our game."
Ovechkin can climb to third with 37 goals this season. Next on the list after Dionne is Brett Hull in fourth with 741. Jaromir Jagr is third with 766 goals followed by Gordie Howe in second with 801 and Wayne Gretzky in first with 894.
"You're going to pass your buddy Brett Hull coming up, that's nothing," Dionne said. "But the great Gordie [Howe], as long as he played, never scored 50 goals (in a season).
"Wayne? Let's forget it. Different class. But you've got a shot. You've got a shot."