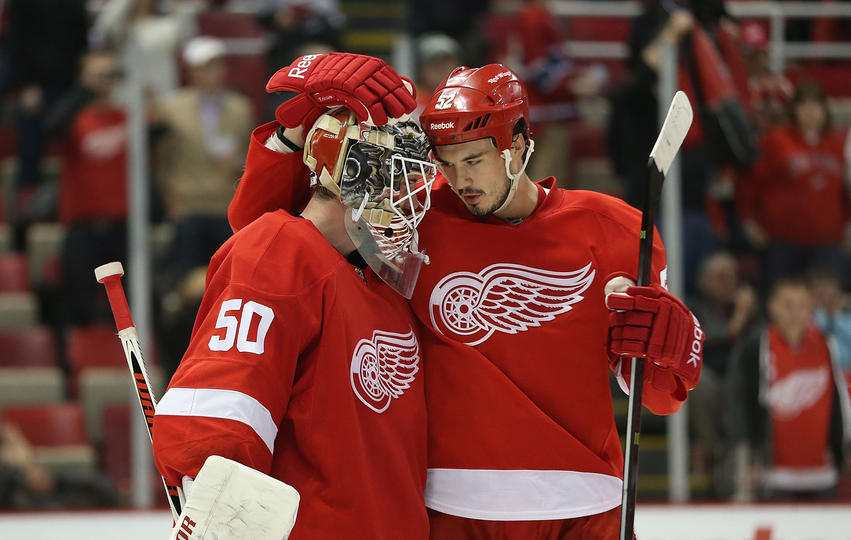 The Detroit Red Wings defeated the Montreal Canadiens last night in convincing fashion. Goaltender Jonas Gustavsson had his best game statistically since October 15th in the 4-1 win. Despite being outshot 31-26, "The Monster" was able to keep them in the game.
It was just Gustavsson's second game back from injury, and he has seemingly returned to form very quickly, with his record improving to 13-3-2 and his save-percentage now an impressive .916.
"I'm not so worried [about save-percentages]," said Gustavsson. "As long as we get the win, I don't care if it's 6-5 or 1-0. That's what I'm really happy about of course. It could be a bonus after a game but the reason you play hockey, for me, the only thing that matters is the wins. But it's always good to feel like you're out there making a few saves when the team needed to, because they're helping me out with a lot of goals lately too.
He isn't the only returning player to the Red Wings lineup however. After a parade of injuries of late, defenseman Jonathan Ericsson (Wednesday) and veteran forward Daniel Alfredsson (Friday) have since re-joined their team.
Detroit is now just three points behind both Montreal and Toronto for the third playoff spot in the Atlantic Division. The Habs have now lost three consecutive games (4-5-1 in their last ten) while Detroit has two games in hand on the Maple Leafs.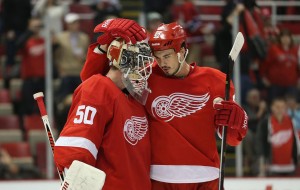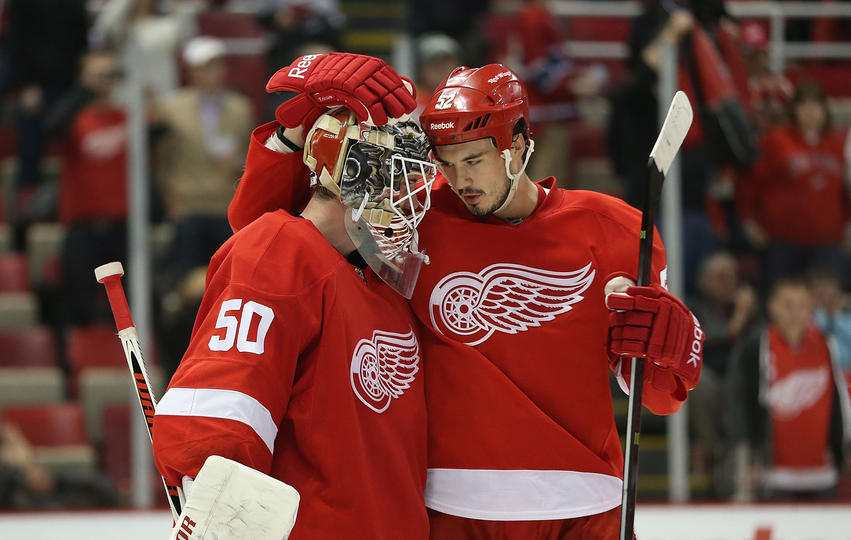 Henrik Zetterberg started the scoring on a power play opportunity in the first period. Alfredsson recorded an assist (his first assist since December 21st and first point since January 1st). It was a solid game for the Swedish Olympian as he scored his 31st point of the season.
"Anytime Alfie's on the ice we're a better team," said fellow Swedish Olympian Niklas Kronwall. "Just his poise with the puck, his leadership in the room, how smart he is out there, he really helps out our team in many different ways."
22-year old Riley Sheahan notched his second career goal and sixth point midway through the second stanza to make it 2-0. "I just saw the puck come off the wall pretty hard," Sheahan said as he described his goal. "And I know they're D were sort of caught in their zone. I just took the lane that I had and I got some good wood on my shot, and just put it in I guess."
"It was pretty cool," joked Sheahan. "I have some family in the crowd, and they're big Habs fans, so I have a little something to rub in their face now, so it'll be fun."
Montreal blueliner P.K. Subban made it a personal goal to get under the skin of the Red Wings from the get-go. Justin Abdelkader had seen enough and was caught boarding Subban. On the ensuing power play, Montreal scored just 16 seconds later.
Defenseman Niklas Kronwall would add an insurance goal late in the second period as well to give his team a two goal lead heading into the final twenty minutes. Gustav Nyquist tried to pass the puck toward the net, but it was deflected by Montreal's Brendan Gallagher (who scored their lone goal) right to the tape of Kronwall's stick. He wasted no time wristing it past Carey Price, who had otherwise played an outstanding period of hockey, robbing Detroit twice with the glove.
With 1:19 to play in the game, before the Canadiens could pull Price for the extra attacker, the Red Wings found themselves with a 3-on-1. Justin Abdelkader passed to Zetterberg, who faked a slap shot, then passed to Nyquist who buried it in the back of the net. It was Detroit's ninth goal in just two games.
So what have the Red Wings been doing differently now?
"I think we're slowly figuring out how we have to play," said Kronwall. "We're just trying to do the same things over and over. Tonight we didn't play as well against Montreal as we did against Chicago necessarily, but we did enough good things and Monster was big in net for us."
Sheahan offered another explanation. "It's hard to pinpoint. I think we're just focusing on coming out, having a good start, and then just building off there. The leadership group here is awesome, and they get the guys going between periods and we just try to stay strong."
Detroit will try to continue their winning ways on Sunday (vs. Florida, 5:00 ET) as they attempt to go 4-1 on this home stand.
Samuelsson Waived
Veteran forward Mikael Samuelsson has been waived by Detroit. If he is not claimed by the other 29 teams, he will be assigned to the Grand Rapids Griffins (AHL).
It was an inevitable fact with the way Detroit's young players have been performing of late.
Samuelsson is 37-years old and has just one goal and two assists in 26 games. He is one NHL game away from 700 for his career.
He was reacquired in the summer of 2012 and was only able to play in four games last season.