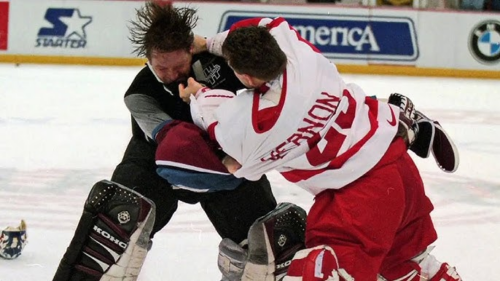 ONE OF HOCKEY'S GREATEST RIVALRIES left a mark on the Detroit Red Wings and the Colorado Avalanche.
Twenty-six years after the Wings and Avs battled for NHL supremacy in a fantastic, relentless, and breathtakingly violent winner-take-all battle, Avs enforcer Claude Lemieux still likes to point out the massive bump on his skull left by Darren McCarty's knee. A similar relic can be found on Adam Foote's forehead, another on Patrick Roy's right brow, and even a slight indentation on Kris Draper's cheek.
To this day, the scars inflicted by the two rivals serve as a kind of road map to the epic period between 1996 and 2002, which resulted in three Stanley Cups for the Wings and two for the Avalanche. "It was just pure old-school, deep-seated hatred between two teams and two cities," McCarty, the mercurial forward who became one of the rivalry's iconic figures, says. "It was the hatred and the stakes that made this whole thing so beautiful."
Undoubtedly, during that glorious seven-season run, the Wings and Avs met four times a year during the regular season and five times more during the post-season, bringing out the best – and worst – in each other in ways that only the Red Sox, Yankees, Celtics, and Lakers had ever done before.
"I'm a University of Michigan fan, and someone asked me, Who do you hate more, Ohio State or the Colorado Avalanche?" ex-Red Wings trainer John Wharton says.
"You're not serious, right? I thought.
I despise Ohio State, but no one on their team has ever attempted to murder one of my teammates."
The game on March 26, 1997, inside Detroit's old Joe Louis Arena, has become known in hockey lore as Fight Night at the Joe, was the epicenter of the rivalry. The high-stakes revenge game had been simmering for nearly a year, fueled by bus brawls, sucker punches, horrific injuries, heartbreaking losses, bomb-sniffing dogs, and nonstop psychological warfare between the two fan bases. When the puck dropped, the scale of the violence and chaos — 18 fighting majors, 148 total penalty minutes, the ice soaked in blood, some of it from the goaltenders — was unlike anything the NHL had ever seen, before or since.
Particularly in today's game, where significant changes have made the NHL safer, more entertaining, and, at times, unrecognizable to the Detroit and Colorado players behind the legendary Fight Night at the Joe.
See for yourself in the youtube video above that you need to confirm-in to watch just due to how violent of a hockey moment this truly was!