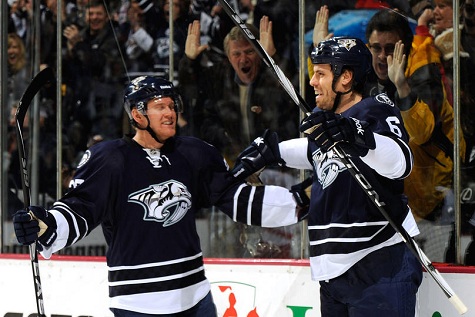 With the impending feeling of doom that has washed over many people with the threat of a lockout, we all want to go to happier thoughts of hockey. Whether it be watching your team win games in last season's playoffs or just reading up on favorite players, all anyone wants to do is think about ANYTHING but a potential lockout.
Now, I've never experienced a lockout, in hockey or any other sport. I was never a big sports fan before I found hockey. So, the only disappointment I've ever felt was watching my Predators lose. Just a single loss has always hit me right in the stomach and it's horrible. You have to hang your head and listen to opposing fans chant in victory as you walk out of your own arena. You have to turn off your television in anger and go to bed cursing (at least I do). In all that disappointment and those what-ifs, there's always been one thing that I look to that reminds me of why I love this sport in the first place: my first game.
February 5th, 2011. Bridgestone Arena in downtown Nashville. The Predators were playing the Detroit Red Wings and my fiance had managed to get us glass seats next to the Predators' bench. I bought my first Predators jersey that night. When the Preds came out for the pre-game skate, my eyes were glued to the players. That had such grace and ease to their skating. I went into this game knowing nothing about hockey, but I knew from that moment I was hooked.
When the game started, the roar of the crowd was like nothing I'd ever experienced.
Three minutes into the first period, Shea Weber gave the Preds a 1-0 lead on the Power Play with assists from Ryan Suter and Colin Wilson. I jumped to my feet and I cheered as loud as I could. I was falling in-love with hockey and those Predators.
Early in the second period, the Predators took a penalty, but that didn't stop Sergei Kostitsyn from getting a short-handed, breakaway, ONE-HANDED goal on Jimmy Howard. That goal will be in Predators highlight videos forever.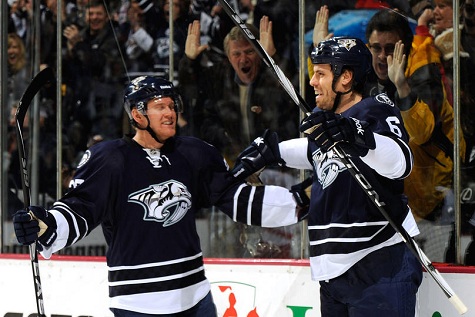 Then came the third period. Sergei Kostitsyn scores yet another goal three minutes in, giving the Predators a 3-0 lead over Detroit. By this time, I couldn't take my eyes away from the ice. I couldn't stop smiling. I had come into this game knowing nothing about the players, the game, or just how much hockey would mean to me for the rest of my life.
The Predators ended the game with a shutout. Everyone chanted Pekka Rinne's name as they filed out of the arena. There were plenty of off-color words from Detroit fans. "Fake win!", "You got lucky!", "Original Six!". I didn't care. I just had the greatest night of my life.
I know there are plenty of life-long hockey fans out there and right now, I'm not one of them. I have gotten bashed for voicing my love of the game and my love of the Nashville Predators. I'm told that I know nothing about the game, solely because I've only been a fan for close to two years. That was true then, but not now. Hockey has become one of the biggest parts of my life and it always will be.
All I have to say is it doesn't matter when hockey comes into your life, because it only takes one game to be in your heart.