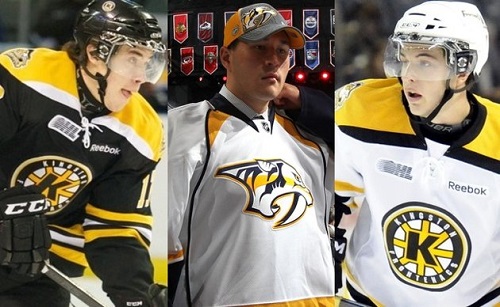 The Nashville Predators had five prospects who participated in the World Junior evaluation camps in Lake Placid, New York, last week.
Goalie Juuse Saros, who was Nashville's fourth pick, 99th overall, during the 2013 NHL Entry Draft, had a win in Finland's first game. The 6-5 overtime game was against Team USA Blue. The 5-foot 10-inch, 178-pound goaltender had 20 saves on 25 shots against during 63 minutes of gameplay.
The 2013 World Junior camps marks Saros' third time playing for Team Suomi. At last year's U-18 World Championships, Saros started all seven games, posting a 5-2 record and 1.86 goals-against with a .946 save percentage. Those games included the 2-1 bronze medal win over Russia. Saros was then recruited to Finland's U-18 roster, but unfortunately did not get any ice time.
Saros ended the camps with five games played, posting 1 win-1 loss. He had a goals-allowed average of 3.33 and a .866 save percentage.
Forward Zach Stepan, Nashville's third choice during the 2012 Draft, played for Team USA White. He notched a power-play goal for USA in two games played.
Defenseman Mikko Vainonen, the Predators sixth choice, 118th overall, in the 2012 Entry Draft participated for Finland's camps. Valnonen was captain for the Finnish squad during the 2012 U-18 World Championships, notching four assists in seven games.
Vainonen posted two assists in five games during camp.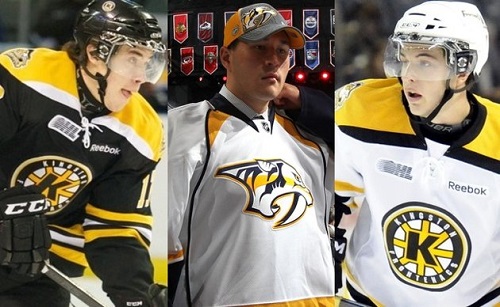 Brendan Leipsic, Nashville's third-round pick in the 2012 Draft played for Canada. This was Leipsic's second stint after skating for Canada Western in the 2011 U-17 World Hockey Challenge where he posted five points (3 goals, 2 assists) in five games.
Leipsic played in two games for Canada, but did not post any points.
Felix Girard, the Preds' fourth-round pick during the 2013 Draft also played for Canada. Girard made his second international debut after posting one goal in the 2012 U-18 World Championships as Canada won a bronze medal.
Girard had a goal and an assists during his two games for Canada.