Featured
Seattle Kraken
Amazon's cashierless tech at an NHL game inside Climate Pledge Arena serves beers in 8 seconds!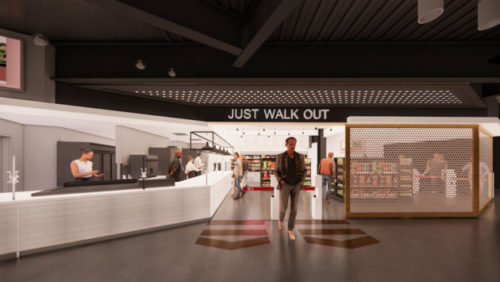 Grabbing a bite or a drink at a Seattle sporting event without waiting in line is now a reality.
Amazon's cashierless technology made its debut this week inside the new Climate Pledge Arena.
We had a chance to test out the tech Saturday during the inaugural Seattle Kraken home game, and it worked seamlessly. Other fans found it similarly easy and convenient.
"It's fantastic, there's no line," one fan said. "I got a beer in eight seconds."
Four food and beverage stores inside the arena are equipped with the "Just Walk Out" tech that uses cameras and sensors to track customers, and removes the need for human cashiers. It's the same experience found in Amazon Go convenience shops — there are now 20 across four U.S. cities — and the company's newer Fresh grocery stores. Amazon is also bringing Just Walk Out to two Whole Foods stores starting next year.
The arena stores also feature Amazon One palm-scanning tech, which lets customers enter and pay with the wave of a hand. Fans can sign up for Amazon One — and the process took less than a minute — or just use their credit card to get in.
Two of the stores sell alcohol; an attendant checks IDs at the entrance. The stores include 14 Hands from Chateau Saint Michelle; Seattle's Lil Woody's Burgers; Big Chicken, a franchise from NBA legend Shaquille O'Neal; and a Starbucks grab-and-go spot. Lil Woody's and Big Chicken make food on-site for grab-and-go pickup.
The Starbucks location is particularly interesting given recent reports noting that Starbucks and Amazon have discussed creating a new style of coffee shop featuring the Just Walk Out tech. The co-branded stores would reportedly let people buy beverages, baked goods and hot foods without going through a traditional checkout.
Amazon last year began selling the Just Walk Out tech to third-party retailers, which caused the United Food and Commercial Workers Union to raise concerns about threatening retail worker jobs and discriminating against underbanked households.
The Starbucks store at Climate Pledge did not feature any Starbucks food, but rather traditional stadium food and drinks including beer, soda, candy, chips, and more. Starbucks-branded cold drinks were also available.
The use of tech to speed shopping and avoid long lines is a key part of the tech-enhanced experience that Kraken and Climate Pledge Arena representatives have been promising for years at the redeveloped KeyArena site.
Tim Leiweke, CEO of Oak View Group, which led the arena redevelopment project, told GeekWire back in 2017 that he wanted to integrate Amazon Go tech into the fan experience.
That vision has come to fruition. But Lewicke also said at the time that drones could help people get to the game as a transportation solution.
We ran into Leiweke on the concourse before Saturday's game and asked about the drones. "It's coming," he said. "It's coming."
That remains to be seen. For now, Climate Pledge Arena, along with the TD Garden in Boston, is pushing boundaries of the fan experience with cashierless tech.