Edmonton OIlers
Featured
Angry Oilers Fans Make Statement by Littering The Ice With Trash After Game 1 Loss In Overtime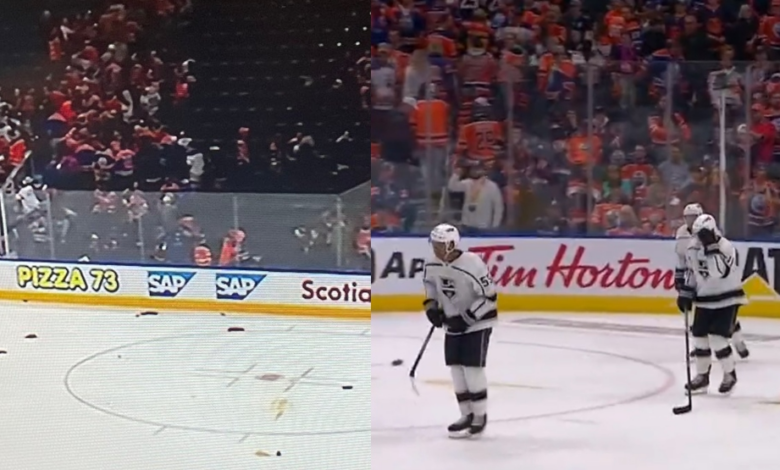 In case you missed it last night, the Edmonton Oilers blew Game 1 last night.
The Edmonton Oilers were defeated 4-3 in overtime by the Los Angeles Kings last night in the first game of their first-round Stanley Cup Playoff series, after first surrendering the lead with 16 seconds remaining, then having a game-winning goal called back in overtime, and finally relinquishing the OT winner to Kings forward Alex Iafallo.
That is a long way of saying the Oilers blew Game 1 completely.
Here's what happened last night in Edmonton's Rogers Place when Iafallo popped off:
IAFALLO AND THE KINGS TAKE GAME 1! WHAT A COMEBACK! pic.twitter.com/zmW0B9yYBF

— Spittin' Chiclets (@spittinchiclets) April 18, 2023
That is one displeased crowd.
In fact, things quickly deteriorated. Oilers fans began throwing trash on the ice immediately after Iafallo scored.
Oiler fans started littering the ice after losing in OT pic.twitter.com/xFdRLPBbab

— Spittin' Chiclets (@spittinchiclets) April 18, 2023
Look at this:
And heeeeeeere come the beer cans … pic.twitter.com/Cpugr5s0al

— Mike Gould (@miketgould) April 18, 2023
Have some common decency, please. I understand you're upset, but this is such childish behavior.
Seriously, either grow up or give your expensive playoff tickets to someone who can behave properly in public.