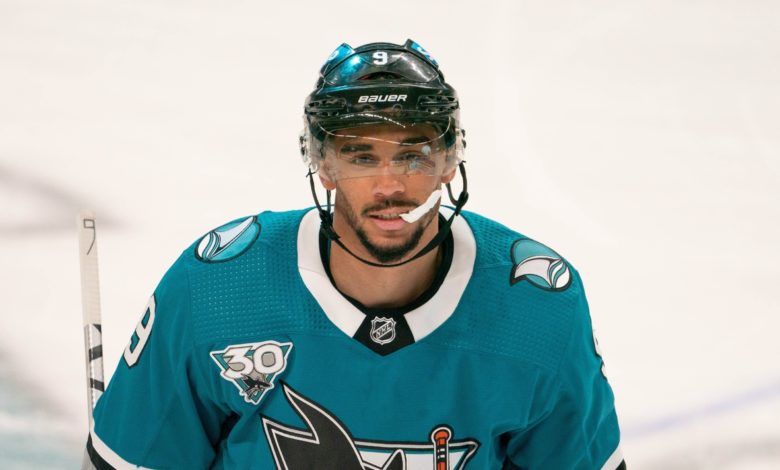 An investigation of San Jose Sharks forward Evander Kane over allegations he violated the NHL's COVID-19 protocols centers around a fake vaccination card he allegedly submitted, sources tell Front Office Sports.
Punishments for violating COVID protocols are not specifically spelled out, but the NHL makes it clear that a "lack of compliance will result in significant Club and individual sanctions, including potential forfeiture of games, fines and reimbursements of expenses, loss of draft choices, and/or ineligibility for participation in training activities."
Beyond possible NHL sanctions, using a fake vaccination card is illegal both in the U.S. and Canada.
A person who buys, sells or uses a counterfeit COVID-19 vaccination card faces up to five years in prison under U.S. federal law. A traveler attempting to enter Canada with a bogus vaccination card can be hit with a fine up to $750,000 and be incarcerated up to six months.
Sportsnet reported on Sept. 28 that the Sharks star was subject to an investigation related to a violation of COVID-19 protocols, although the specific reason for the inquiry was not specified. Kane and the Sharks mutually agreed that he would not attend training camp following sexual and domestic abuse allegations made by his estranged wife, Anna Kane, that were first reported by FOS.
On Sept. 22, the NHL announced that an independent investigation found no proof that Kane bet on his own games, allegations made by Anna Kane on social media over the summer. In the same news release, the NHL also announced an investigation into the abuse claims.
One version of that news release from the NHL — which has since been updated — stated Kane faced an investigation "involving allegations of inappropriate behavior potentially jeopardizing the health and safety of Club members."
The Sharks and NHL declined to comment when reached by FOS on Tuesday.
Kane has missed all five of the Sharks' preseason games and his status for the team's regular-season opener on Oct. 16 against the Winnipeg Jets is uncertain.
Kane, 30, has four seasons left in a seven-year, $49 million contract.