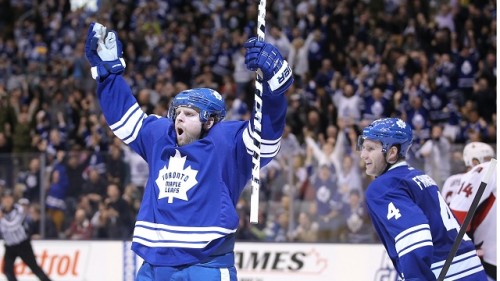 The Toronto Maple Leafs made it evident that they have had enough of Randy Carlyle, when they finally sacked the coach following a 5-1 loss to the Winnipeg Jets on January 3rd. Now under interim head coach Peter Horachek, are the Leafs doing any better?
The answer is yes and no.
It's easy to say that Toronto hasn't reached any new heights following Carlyle's dismissal as the Leafs have gone 1-4 in five games under Horachek. During that stretch, the team's offense that ranks fifth in the NHL with 3.0 goals per game has found it utterly difficult to score. The Leafs were outscored 17-8 despite putting up some of their best defensive games this season.
This brings us to the silver lining for the Leafs since parting ways with Carlyle: their defense. The Leafs defense, which has been a big chink in their armor, has mostly improved. Yes, they have allowed 17 goals in the five games without Carlyle. But the shots per game tell a different story.
In their first 40 games this season, the Leafs faced an average of 34.4 shots per game. Thus far under Horacheck's reign, Toronto's opponents have managed to muster just 26.6 per contest. Notwithstanding the 42 shots they've allowed in their 3-1 loss to the San Jose Sharks on January 15, such a discrepancy in their shots against average brings to light the new complexion of the Leafs' defense no matter the small sample size. NHL futures odds at sportsbook Topbet.eu list the Leafs' odds to win the Stanley Cup in June at +3,000, and advanced statistics suggest that if you drop your shots against average by almost ten per game, good things will eventually start happening.
The loss against the Sharks, however, might be a sign that Toronto's defense is tiring itself out as the team's offense continues to fire blanks. This leaves the door open for commentators to target other Leafs, especially Phil Kessel, as the team's scapegoat. Since the calendar shifted to 2015, Kessel has produced just a goal and an assist in eight games.
Kessel aside, improvement must also be made by the netminders, Jonathan Bernier in particular. Save for the Sharks game, all the other Leafs games with Horachek at the helm had Bernier in between the pipes. Bernier has faced just 22.75 shots in those games but still let 14 pucks slip past him.
The Leafs have a lot of work to do but at least they've shown improvements. The key is to get their offense and defense clicking at the same time and not alternatingly.
Love Reading About Hockey?

Subscribe to keep up-to-date with the latest and most interesting hockey news!
| | |
| --- | --- |
| | We hate spam just as much as you |