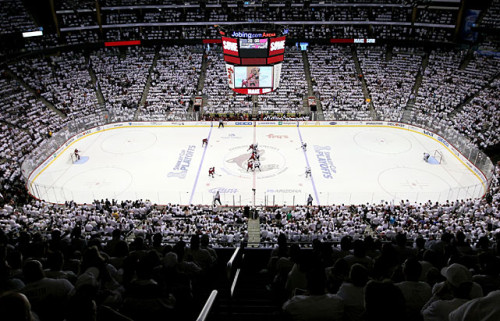 Last Season Record: 24-50-8
Key Additions: Dylan Strome*, Zbynek Michalek, Anders Lindback, Dustin Jeffrey, Steve Downie, Antoine Vermette, Max Domi, Nicklas Grossmann.
Key Subtractions: Martin Erat, Sam Gagner, Lauri Korpikoski.
Rumors of the Coyotes' demise have been greatly exaggerated; or at least that's what they'll have you believe. With the Arizona Coyotes franchise celebrating their 20th year in the desert since relocating from Winnipeg, this franchise has probably seen better days. Coming off the back of a miserable season only surpassed in mediocrity by the Buffalo Sabres, the Coyotes couldn't even win the draft lottery; missing out on both Jack Eichel and Connor McDavid. The Coyotes didn't come out completely empty-handed in the draft, though, getting McDavid's junior linemate, Dylan Strome. Though he is to start the season with the Erie Otters, Strome is a very talented skater who will get to prove his own worth outside the shadow of the Edmonton Oilers phenom forward.
Defenseman Zbynek Michalek proved to be the ultimate rental player, as he makes his return to Arizona despite being traded to St. Louis at the deadline last season, while veteran forward Martin Erat looked for greener pastures in the KHL with Avangard Omsk.
With rumors about relocation increasing in magnitude and frequency surrounding this franchise, combined with the poor product on-ice, the possibility of this being the last (or close to last) season that the 'Yotes play in Glendale are very real; especially with the prospect of seeing promising youngsters like Max Domi and Dylan Strome dressed in other colors.
The off-season trade for Nicklas Grossmann gives a little depth to a very thin defensive corps, while Anders Lindback, if he lives up to his potential, should give Mike Smith an interesting battle in the crease.
Key Questions:
Will Max Domi take off in Arizona under Vermette's mentorship?
Can Anders Lindback play up to pre-career scouting reports and take over for Mike Smith?
Will the Coyotes play well enough to attract a big enough crowd to stay in Arizona?
Crazy Predictions:
The Coyotes are in tough against very improved divisional opponents; though they themselves have also improved, look for them to find a way to end Strome's tenure in the OHL early. Shane Doan will NOT retire a Coyote.
Line Combinations:
Domi – Vermette – Boedker
Rieder – Hanzal – Duclair
Chipchura – Richardson – Doan
Martinook – Gordon – Downie
Ekman-Larsson – Stone
Grossman – Michalek
Dahlbeck – Elliott
Smith (Lindback).
Projected Finish: Seventh in Pacific.