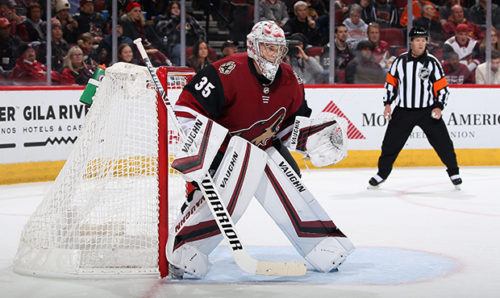 The Colorado Avalanche have acquired goaltender Darcy Kuemper from the Arizona Coyotes for defenseman Conor Timmins, a 2022 first-rounder and 2024 conditional third-rounder.
Kuemper signed a three-year, entry-level contract with the Wild on May 26, 2011, and that autumn began a two-year run with Ontario in the East Coast Hockey League and Houston of the American Hockey League. The Wild called up Kuemper from Houston to make his NHL debut against the Vancouver Canucks on Feb. 12, 2013. He stopped 28 of 30 shots in Minnesota's 2-1 loss. Five days later, Kuemper stopped 29 of 31 shots to earn his first NHL win, 3-2 against the Detroit Red Wings.
Kuemper started one more game for the Wild that season. Officially still a rookie in 2013-14, he split the season between Minnesota and the Wild's AHL affiliate in Iowa.
The Wild qualified for the 2014 Stanley Cup Playoffs with Kuemper as the backup goalie. But starter Ilya Bryzgalov struggled and with Minnesota trailing the Colorado Avalanche 2-0 in the Western Conference First Round, Kuemper started Game 3.
Kuemper made 22 saves in a 1-0 overtime victory that was the first playoff shutout in Wild history. He won two more games in the series before injuring his leg late in Minnesota's Game 7 overtime win and did not see the ice again that season.
Kuemper enjoyed another strong start in the 2014-15 season with shutouts in three of his first four games. He would lose the starting job, but in 2015-16 he set a Wild record by earning at least one point in each of his first eight starts of the season.
Following the 2016-17 season, Kuemper became a free agent and agreed to a one-year contract with the Los Angeles Kings. He was 10-1-3 with a 2.10 goals-against average and .932 save percentage in 19 games (10 starts) before he was traded to the Arizona Coyotes on Feb. 21, 2018. He immediately signed a two-year contract and emerged as Coyotes starter in 2018-19 by going 27-20-8 with a 2.33 GAA, .925 save percentage and NHL career highs of five shutouts and 55 games.
The performance earned Kuemper another two-year contract, which he signed Oct. 2, 2019.