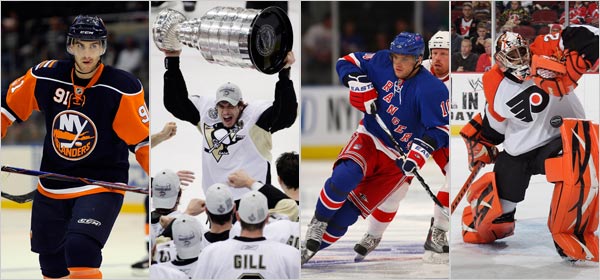 Starting today, Hooked on Hockey Magazine is going to rate the top 5 forwards, defensemen, and goalies in each division. We're going to start with the Atlantic Division today and look at the top 5 forwards first. I'll offer up the top 5 forwards in order as well as a projection for how I think that player will do during the season. Let's begin!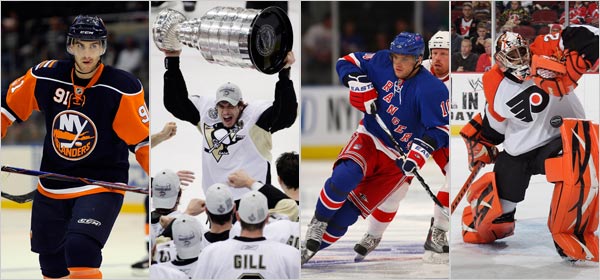 Honorable Mentions: James Neal, John Tavares, Marian Gaborik, and Brad Richards
5. Rick Nash
This Atlantic Division was one of the hardest for me to narrow down. The amount of talented forwards in this division is without parallel in the NHL and I was having a tough time picking which of the 3 New York Rangers would take the #5 spot on this list. With all due respect to both Brad Richards and Marian Gaborik, Rick Nash has more upside. Many on the East Coast may not be too familiar with Rick Nash because he has been stuck in Columbus his entire career and has only made the playoffs just once in his career. However, Nash has been able to score 30+ goals in each of the last 5 seasons when his centers were Michael Peca, RJ Umberger, Antoine Vermette, Derick Brassard, and Jeff Carter for a brief period. Imagine what he could do with a talented playmaker like Brad Richards. Nash will fit right in with the Rangers as he had to do it all for Columbus. He killed penalties, blocked shots, and carried the team on his back and has that blue-chip mentality that all the Rangers seem to possess.
Projection for the season
45 goals – 35 assists – 80 points
4. Ilya Kovalchuk
Kovalchuk took some serious flak his first year in New Jersey as he was unable to find the back of the net with regularity and was a defensive liability. His second year was infinitely better as he shored up his defensive game, logged the most minutes of any forward in the NHL, and put the team on his back in the playoffs to get them to the Stanley Cup Finals. Kovalchuk scored 37 goals, 46 assists, and 83 points and he is going to be relied on even more this upcoming year with the departure of Zach Parise. Expect Kovalchuk to lead the league in minutes played again, expect him to continue to improve defensively, and expect the goals to keep coming. I don't think the Devils will be able to get back to the Stanley Cup Finals, but expect Kovalchuk to do everything in his power.
Projection for the season
40 goals – 45 assists – 85 points
3. Claude Giroux
Yeah this kind of sucks for Giroux. If you were to ask people who the top 5 players were in the NHL, chances are that you would find Giroux's name on that list. However in this division, Giroux is only the third best forward. But that's not a diss in any way. In fact, Giroux is still getting better and could prove me totally wrong by improving upon his incredible numbers from last year. In just his 5th year in the league, Giroux put up 28 goals, 65 assists, and 93 points. In the playoffs, he got even better, especially his series against the rival Penguins. His 3 goal, 6 points night in Game 2 of the Flyers 1st round series against the Penguins earned Giroux a place in Flyers playoff history, up there with Eric Lindros, Bobby Clarke, and other Flyers' greats. I expect Giroux to get even better this year and maybe next year when we revisit this list we'll see Giroux at #2 or even #1.
Projection for the season
33 goals – 68 assists – 101 points
2. Evgeni Malkin
Similar to Giroux, it's hard to be the reigning NHL MVP and find yourself as only the 2nd best player in your division. Malkin was awesome last year, scoring 50 goals, 59 assists, and 109 points in just 75 games. Malkin scored numerous highlight-reel goals and after his coast to coast goal against the Lightning during the season, many people had flashbacks to Mario Lemieux. Malkin really found his game this past year after struggling the past two seasons and now the sky's the limit for him. He's so big, so strong, has some of the softest hands, and is damn near impossible to knock off the puck. What can we expect next? We haven't had a player top 120 points in a season since Joe Thornton in 05-06 (Crosby hit 120 in 06-07), but if I had to bet on the next player to do it, I would bet on Malkin. In fact, if you carry out Malkin's stats from this year, but project him playing all 82 games, Malkin would have finished with 55 goals and 119 points.
Projection for the season
47 goals – 64 assists – 111 points
1. Sidney Crosby
I couldn't bring myself to do it. I wanted to put Malkin or Giroux above Crosby, but the fact of the matter is that Crosby is the best player in the world. Sure Crosby has had some injury issues the past two seasons, but when he laces up the skates, he is the best player on the ice. Despite all the injury issues, most people don't realize that in the last 63 games Crosby has played, he has recorded 40 goals and 103 points. If you carry out those numbers over an entire season, you are looking at a 52 goal, 82 assist, 134 point season, a number that hasn't been reached since the 1995-1996 NHL season when Mario Lemieux led the league with 161 points. Crosby takes a lot of flak for his somewhat dubious reputation for diving and whining, but the fact of the matter is that he's the best player in the NHL and all hockey fans should be rooting for him to get back on the ice. He's a special player and we can only hope that he recovers fully. I'll project out Crosby as if he were to play a full 82 game season.
Projection for the season
51 goals – 69 assists – 120 points
Stay tuned for the top 5 defensemen in the Atlantic Division tomorrow!
Have any disputes? Let me know below with a Comment:
Love Reading About Hockey?

Subscribe to keep up-to-date with the latest and most interesting hockey news!
| | |
| --- | --- |
| | We hate spam just as much as you |