Despite losing 34 games the prior season over what many considered another foolish lockout, came a cramped 48-game shortened season with plenty of action every night. And of course with such success and interest the National Hockey League's average ticket price has gone up once again.
More than two-thirds of the league, twenty-one teams to be exact, have increased ticket prices by 1 percent or more this season, led by the 2013 Stanley Cup champions, Chicago Blackhawks. The Blackhawks had the biggest percentage increase at 16 percent, pushing their average ticket to $72.95 (Last Season's Price $62.88). The average National Hockey League ticket rose 2.3 percent to $61.62 for the 2013-14 season. That's roughly up $1.61 from last season's average of $61.01. Only two teams showed percentage decreases of more than 1 percent, the Florida Panthers (-26.7 percent to $40.85) and the Nashville Predators (-6.6 percent to $56.43). The Toronto Maple Leafs, like usual, have the highest average regular season ticket price in the league at $122.20 (up 2.4 percent).
The Dallas Stars have the cheapest average ticket at $37.28, up $1.19 from last season's average ticket price of $36.09. The average NHL premium ticket (which includes club seats and any season ticket with added amenities) is $148.90. The increase is only $3.57 from last season's average price of $145.33. Premium seats (not including luxury suites) account for nearly 15 percent of the NHL inventory.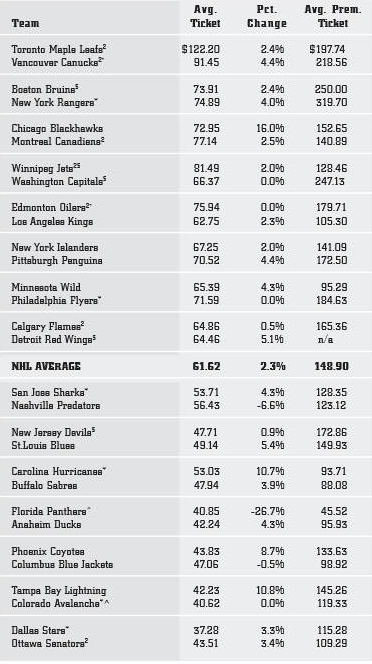 (Resource for Table: www.teammarketing.com/)
Coming back to the current Stanly Cup Champion Blackhawks, success has surely come at a price in Chicago. Blackhawks ticket prices have gone up a whopping 109 percent since the 2007-08 season, coinciding with the team's rise in fortune and popularity. The average Blackhawks ticket was once $34.88 back in 2007, which was then the third-lowest in the NHL. Two years later, the Blackhawks would go on to win the first of two Stanley Cups in this ticket increase era and now have a season ticket waiting list too.
Fun fact: The average beer price is up to $7.34 for a 16 ounce beer. The Anaheim Ducks, Minnesota Wild and New York Islanders reported the most expensive "cheapest" beer at $9.50. Although all 3 were playoff teams last season that doesn't justify pricing a 16oz of beer for more than what a 6pack would cost you at your local liquor store.
So what do you think of the ticket price increases over the last few seasons: Are you still going to as many games as before?