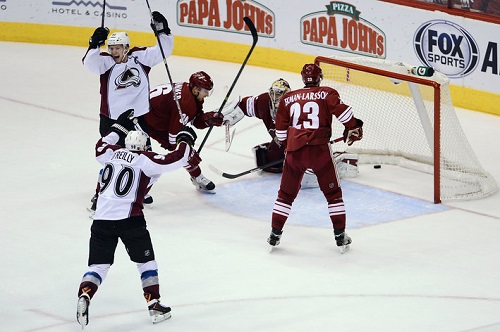 Wipe your foreheads and take your finger off that panic button, the Colorado Avalanche answered three straight losses with a three win streak. Hobbled by lesser efforts, some absent minded goaltending and an injured Matt Duchene, the Avs got back on track after their embarrassing loss to the Florida Panthers by beating the defending champion Chicago Blackhawks, the Phoenix Coyotes and the LA Kings.
Well, the Avs actually thrashed the Hawks 5-1 at home in front of a sellout crowd. The same scene played out last year when the hapless Avs thrashed the streaking Hawks to hand them their first regulation loss in 21 points. Then they traveled to Scottsdale and gave the Coyotes a much needed OT loss as the yotes have had the Avs number for awhile now.
The Kings put up a good fight and both teams played a very physical game, but the Avs managed to put the game away in OT. So what changed after dropping three straight?
The Avs sort of tightened up their penalties. Ok, not really, but they weren't giving up goals during their PK or just as it had ended. The urgency returned and the fundamentals stuck. The Avs trap themselves with finesse play and fancy moves. Not everyone can be Pavel Datsyuk and sometimes you just have to work the puck around the zone.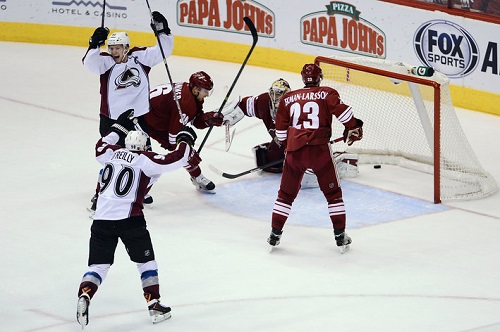 Real simple stuff. The Avs in their three losses were outscored 5-13. In their three recent wins: 10-4.
Luckily the Avs won't be without Duchene much longer. The team point leader wanted to make the trip to Phoenix and LA, but Coach Patrick Roy put a stop to it. Duchene practiced in a no-contact jersey Monday but will still not play Wednesday when the St. Louis Blues visit Denver.
Alex Tanguay and Ryan Wilson are both expected to possibly return the second week of December.
The Avs must maintain as they play through a deep set of divisional and conference games, including a home and home with Minnesota who are nipping at the Avs heels in the standings.