Featured
Back on the Ice: Carson Briere Searches for a Fresh Start Once Again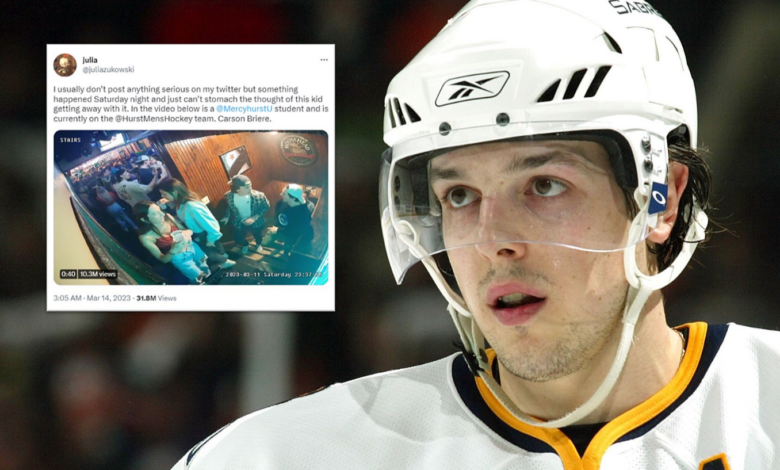 After being dismissed from his college hockey team, Carson Briere, the son of former NHL player and current Philadelphia Flyers general manager Danny Briere, has decided what he wants to do next. Yet, it will probably be challenging to find any takers.
Briere, who is seeking a new school and team to play for, has reportedly placed his name into the NCAA Division 1 transfer portal, according to GoErie.com. The change was made only a few days after Mercyhurst University's men's team dismissed Briere. The choice was made in response to a widely shared video of Briere pushing an empty wheelchair down a flight of stairs during a party. An amputee who was present at the event owned the chair, which was severely damaged in the fall.
Roughly one month after video surfaced of Carson Briere pushing Sydney Benes's wheelchair down a flight of stairs, Mercyhurst University has released the following statement:

Briere is no longer on the men's hockey team.

— Colin Kaepernick 7️⃣ Was Exiled Exercising Rights (@RickStrom) April 4, 2023
Due to his actions, Briere is being charged with criminal mischief, criminal conspiracy to do mischief, and disorderly behavior. They are all regarded as misdemeanors. Nothing legally prohibits him from looking for a new team and school, notwithstanding that. Yet for now, he probably has a better chance of winning the lotto. If Briere's dismissal from a collegiate hockey team was his first, he might have a better chance. He was cut from the Arizona State hockey team in 2019, consequently, before he had the chance to take the ice for them.
The school would only say that a rule had been broken as the cause. In summary, unless someone makes a strong and persuasive case for him, he is currently a huge liability and is not likely to be given another chance in the collegiate system.