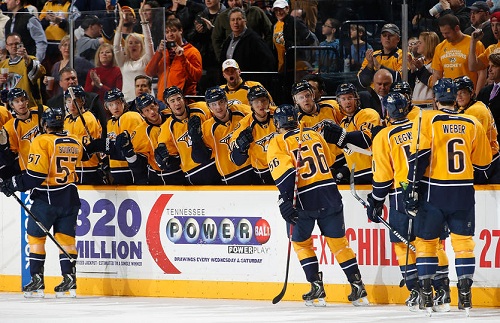 After a long, rough road trip and a four-game losing skid, the Nashville Predators knew that their playoff chances were slowly slipping away. They're currently 13-13-6 for the season, holding 32 points, and sitting at 10th place in the Western Conference. After adding many new faces to the ice, two forwards and a defenseman, the young blood from Milwaukee seems to be helping Nashville's offense as well as their confidence.
Predators Douse Flames
Nashville added an eighth consecutive road loss to the Calgary Flames record, with a 5-3 win on March 21st.
Mark Giordano put Calgary out in front early with a short-handed goal at 5:01 of the first period. Nashville responded quickly during a power-play opportunity when Martin Erat deflected a slap shot Roman Josi took from the blue line.
The Flames tallied another short hander at 13:05 after Giordano sent a pass from the left dot to Blake Comeau, who came in the right side and tipped it past Pekka Rinne.
Mike Fisher tied it for Nashville in the first period after converting on a nice pass from Erat. Fisher then put Nashville in front at 13:24 of the second. Josi carried the puck into Calgary's zone on the right side, then threw it to Fisher who beat Miikka Kiprusoff, tallying his ninth of the season.
"They were great plays," Fisher said. "Marty made a great play forechecking on that first one and I was right in the slot. Josi made a perfect play backdoor to me. I was just in the right place at the right times."
Only a minute later, Nick Spaling redirected the puck past Kiprusoff on a slap shot by Preds newcomer, Victor Bartley. The goal was Spaling's sixth of the year and the assist was Bartley's first NHL point.
Brandon Yip gave the Predators an insurance goal with six minutes remaining.
Flames' captain, Jarome Iginla, scored on the power play with a minute remaining.
"The most important thing is we got the two points," Erat said. "We had a couple of bad mistakes the last three, four games, and it happens. It is a long season and we bounced back today."
"The thing that impressed me the most was that we didn't go into a shell," Nashville coach Barry Trotz said. "We've had a little bit of bad luck and a little bit of bad play that goes along with it. We didn't score first tonight. As I said before the game, I wanted to keep a positive spirit."
Mike Fisher has points in five consecutive games, which is a season-long streak.
Nashville Ends Streak For Columbus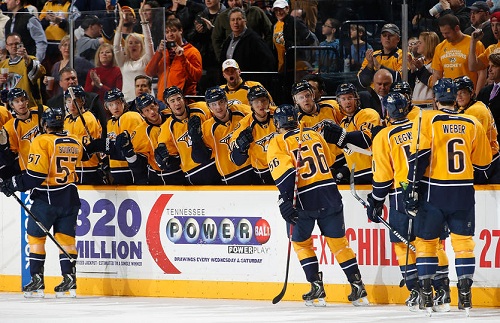 After the Columbus Blue Jackets had a 12 games point streak (8-0-4), the Predators were looking to end that.
At 7:11 of the first period, Taylor Beck started the 3:04 stretch where the Predators would score five goals. After R.J. Umberger skated into the Predators' zone and connected with Pekka Rinne's left pipe. The Predators then carried the puck back down ice and Beck sent a wrist shot from the right faceoff dot that went high on the short-side, beating Sergei Bobrovsky.
"I've worked my whole life to score goals in the NHL," Beck said. "Now that I finally got my first, it is a great feeling." The game was Beck's third in his NHL career after being brought up from the Milwaukee Admirals on March 19th.
Nashville's captain, Shea Weber, made it 2-0 at 8:21 during a power play chance, but Umberger pulled the Blue Jackets to within one at 9:29. Umberger's goal was reviewed, and allowed to stand, much to the protest of every Predators fan in Bridgestone Arena. Pekka Rinne caught a shot from his left side and quickly covered it as Umberger fell into him, knocking the puck loose and between Rinne's legs and into the net.
David Legwand and Matt Halischuk scored 29 seconds apart, giving the Predators a 4-1 lead.
Columbus' goaltender, Bobrovsky was pulled and replaced by Steve Mason after allowing four goals on 11 shots.
Columbus had a chance to cut into the Predators lead with a 5-on-3 power play for 1:53 after Rich Clune was given a 5-minute major for interference and a game misconduct after a hit on Artem Anisimov in the neutral zone at 10:27. Mike Fisher was then called for goaltender interference at 13:24, giving the Blue Jackets a total of seven minutes of the man advantage. The Predators quickly went into shutdown mode, with Columbus only tallying one shot on Rinne.
Anisimov got Columbus their second and final goal with 5:07 remaining in the second period. He sent a shot towards Rinne and the puck rolled off Fisher's stick over Rinne's right shoulder.
Nashville defenseman, Roman Josi, added an empty-netter with less than a minute remaining, giving the Predators a 5-2 win.
Columbus last win during regulation in Nashville came April 3rd, 2006.