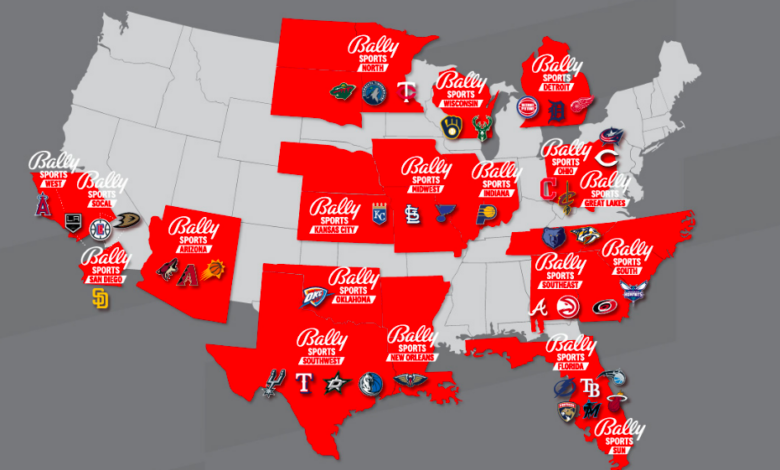 Diamond Sports Group, the largest owner of regional sports networks, missed a $140 million interest payment on Wednesday, bringing the company closer to bankruptcy, the company announced.
Diamond Sports Group's missed interest payments trigger a 30-day grace period during which it can negotiate with creditors and restructure its debt. Another option is to file for Chapter 11 bankruptcy protection ahead of time.
"The Company intends to use the 30-day grace period to advance its ongoing discussions with creditors and other key stakeholders regarding potential strategic alternatives and deleveraging transactions to best position Diamond Sports Group for the future," the company said in a statement.
"Diamond Sports Group expects that its business will continue as usual, and it will keep broadcasting quality live sports productions for fans while it addresses its balance sheet."
Diamond owns 19 networks under the Bally Sports banner, including Bally Sports Arizona, which has rights to broadcast games of the Phoenix Suns, Arizona Diamondbacks, Arizona Coyotes and Phoenix Mercury.
In total, the regional networks have the rights to 42 professional teams — 14 baseball, 16 NBA and 12 NHL.
Bloomberg reported last month that Diamond Sports Group has an overall debt of $8.6 billion.
Sinclair Broadcast Group — which owns Diamond — bought the regional sports networks from Walt Disney Company for nearly $10 billion in 2019. Disney was required by the Department of Justice to sell the networks in order for its acquisition of 21st Century Fox's film and television assets to be approved.
Diamond has nearly $1 billion in rights payments, mostly to baseball teams, due in the first quarter this year. Commissioner Rob Manfred told the AP in February after an owners' meeting that MLB would be in a position to step in if Diamond was unable to broadcast games.
"Our goal would be to make games available not only within the traditional cable bundle but on the digital side, as well," Manfred said. "What we do is largely dependent on how Diamond and the creditors play their cards, what they decide to do."
Bally Sports has tried to offset the effects of cord-cutting by offering a Bally Sports+ digital package, where fans in some markets would be able to stream their team's games.