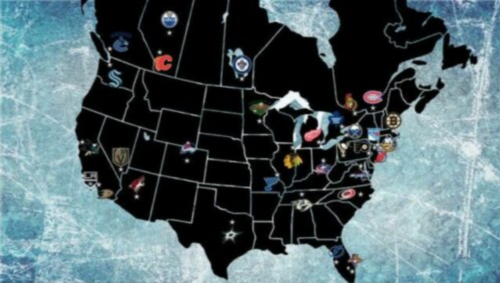 It's simple to yearn for NHL expansion while observing the success of organizations like the Seattle Kraken and Vegas Golden Knights. There are quite a few exceptional players, therefore there wouldn't be a problem with skill dilution. Additionally, it appears that numerous cities would welcome an NHL team with open arms.
Gary Bettman, the commissioner of the NHL, stated in March that the league won't be expanding anytime soon but acknowledged that other cities have expressed interest. While expansion isn't a priority, according to Bill Daly, deputy commissioner, they don't seem to be ruling it out in the long run, which just heightens the excitement, they stated in their yearly press conference at the Stanley Cup final.
This raises the questions of which lucky city will take team No. 33 as well as which other cities will do the same. Cities that have the infrastructure, financiers, and fans to support a team are very different from those that are still weighing their options. However, it appears inevitable that the NHL will expand, which will bring with it a few challenging decisions.
Here are the scenarios in more detail:
SALT LAKE CITY
Utah appears destined to enter the NHL landscape sooner than other places on this list. Owner of the Utah Jazz Ryan Smith has already informed the league that he is interested in providing financial support. Due to the Utah Grizzlies of the ECHL, the area is quite familiar with hockey. The league would greatly benefit from adding Utah because it would significantly complete the western plains of the United States.
But there are just as many problems with that area's immense vacuum as there are opportunities. Salt Lake City has a population of roughly 200,000 and a metro area population of 1.26 million, but there aren't many satellite cities to support fandom. The Golden Knights and Avalanche are two local teams that are supported by the big cities surrounding. As a result, it might take some time for this new market to continuously draw supporters.
HOUSTON
Even before Seattle was added as the 32nd team, Houston has long been mentioned as a prospective expansion city. The Houston Aeros of the AHL and their World Hockey Association ancestors have already planted the hockey zeal in this country's fourth-largest metropolis. The potential rivalry between Houston and the Dallas Stars, which would undoubtedly spark interest, is beyond words.
Popularity is not necessarily determined by the population. Phoenix boasts the fifth-largest American population, including many retired northerners who enjoy hockey, but the broader Phoenix area has had difficulty maintaining its team. Not to add, before genuine expansion discussions can start, a certain Houston ownership group must emerge. Although Houston is moving in the right direction, growth there is not assured.
ATLANTA
Surely the third time is the charm? The Atlanta Flames (now the Calgary Flames) and the Atlanta Thrashers (now the Winnipeg Jets) were two previous NHL clubs that called Atlanta home. Atlanta, which has historically suffered from poor administration, has a lot of promise as a hockey market given its robust economy and substantial local population. Maintaining hockey in Georgia will require learning from the past.
One of the most important is that arena placement is important. Old fans avoided the traffic jams caused by Thrashers games in the past. Atlanta not only needs an ice-supporting arena (particularly in the Deep South), but it also has to strategically locate it to lure the largest crowds. Atlanta might once again join the NHL fold with appropriate investment. Bill Daly seems to concur.
"Quite frankly, look, when we first expanded there, it was 1972," Daly said at the annual Cup final presser. "So the world has changed a lot since 1972. Some might argue that the second time we expanded there with the Thrashers, the building was not built in the best part of Atlanta in terms of facilitating support for hockey. So are there better options going forward? We've been told there are."
QUEBEC CITY
There is constant demand from supporters for an NHL club to return to Quebec City. Tens of thousands of passionate hockey fans have been without a local team to support ever since the Nordiques relocated to Denver in 1995, especially given how intense Quebec's rivalry with the Montreal Canadiens developed over time. That is all positive news for a return to Quebec.
But just like Houston, who is actually providing the funding? Officials from Quebec's provincial government met with the NHL last year to discuss expansion, but it is obvious that the discussions fell short of catapulting a comeback for the Nordiques. Quebec is supported by interest and tradition, but the all-powerful dollar must also bend to its will.
OKLAHOMA CITY
There are other southwestern cities than Houston where an NHL team could one day play. Although it is a new market, Oklahoma City's aviation-based economy provides the NHL with two things it can use to soar: money and fans.
The lack of a hockey market, though, doesn't exactly have investors coming up at the door to fund a team, so this is more of a "dream city," if you will. Not only that, but the Oklahoma City Barons' attendance problems since 2015 have prevented the locals from even seeing minor-league hockey there. Similar to Vegas, this squad will need to consciously create a fanbase, which takes more time to arrange.
A SECOND TORONTO?
When he suggested a second Toronto team as a means of expansion, The Athletic's Pierre LeBrun stirred up a lot of discussion. Hockey-related revenues—a trade name for the money that determines the wage cap and league success—could be boosted by splitting the Maple Leafs' fan base between two teams. That might greatly increase the NHL's revenue, enabling it to compete with leagues like the NBA and NFL.
Toronto can easily support two teams, but dividing the fan base of a storied hockey market is a big ask. By no means are Leafs supporters bandwagoners, and you can be sure that some would shudder at the suggestion of backing another team. A two-team option would force the new Toronto organization to compete with the existing team almost immediately, even though markets like New York and Los Angeles indicate that it is feasible. That is at best grandiose.