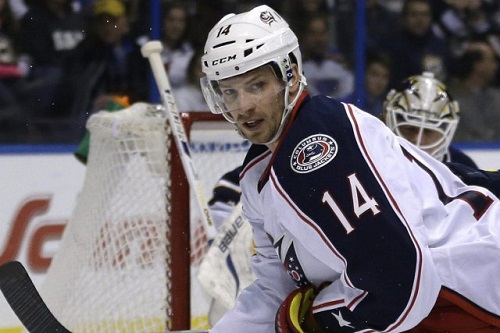 The NHL has become an organization that promotes their rivalries. The fans, in no small part, have added to these rivalry games, taking it upon themselves to make a buzz in the arenas and channeling their emotion and intensity into the players on the ice. There is no question amongst Blue Jackets fans that the Detroit Red Wings are one of their biggest rivals. In Columbus' only playoff appearance they were swept by the Wings in the first round. In fact, if all of the NHL teams were depicted a schoolchildren, we could say that the Red Wings are the bully of the Blue Jackets who began standing up to him last season.
The rivalry is only made more intense by the geographical location. Pittsburgh is a the closest city to Columbus and a potential rivalry is in the works, but Detroit is very close to Columbus too, and the two cities have always shared the same conference and until this season, the same division as well.
These types of rivalry games can fill a player with emotion. You've seen what it does to teams if you ever watched a game between the Pittsburgh Penguins and the Philadelphia Flyers. The only memory I've retained from a Flyers vs Pens game that I attended a few seasons ago is watching Assistant Coach of the Penguins, Tony Granato, square off with then head coach of the Flyers, Peter Laviolette. The two coaches were over the stanchion that separate the benches, screaming at each other while the gloves and sticks of numerous players were still at center ice after a line brawl.
This sport is quite unique.
In the game between the visiting Red Wings and the Blue Jackets, emotions ran high early in the game as Blue Jackets forward Blake Comeau took Red Wings defenseman Brendan Smith hard into the boards in the first period. It's a hit that would have been considered legal if Comeau didn't take him at full speed from behind, endangering Smith's health. No, actually that hit would never be considered legal.
Comeau was suspended two games for the hit. If you'd like to see it, I made a GIF of the boarding call. Comeau was given a two minute minor penalty for boarding and another two minute penalty for diving afterward. Smith was given a cross-checking minor for cross-checking Comeau after the hit, in retaliation.
Luckily, for the Blue Jackets, they have one of the deepest pools of NHL caliber forwards to replace Comeau until his suspension is up.
In retrospect, one wonders why Comeau would have taken so many liberties on this play after the game between the Jackets and Dallas Stars was postponed the night before.