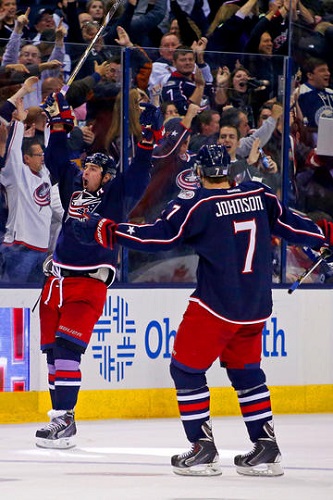 The Blue Jackets began last season with a bad record and even though they played two great months of hockey in March and April they couldn't overcome the deficit and missed the playoffs by one point. So far this season that isn't the case. The Jackets are now 5-5-0 and sit only four points behind the Pittsburgh Penguins who are the first place team in the Metropolitan division.
After losing four games in a row the Jackets finally turned things around last Sunday against the Vancouver Canucks. Curtis McElhinney made 37 saves in his season debut. His effort helped the Blue Jackets to a 3-1 victory. The performance must have motivated Sergei Bobrovsky who previously allowed nine goals in two games. He stopped 25 of 26 shots in a 4-1 victory over the New Jersey Devils the following game.
The Toronto Maple Leafs visited Columbus on Friday and so did some of their fans. However, they were left disappointed. The Blue Jackets played one of their best games of the season and it all began in the faceoff circle, officially winning 44 of 67 draws. They also outshot Toronto 36-25.
Ryan Murray scored his first career NHL goal to open the scoring. He was given time on the first power play unit as a loose puck bounced toward his stick in front of a wide open net. It was a gift-wrapped goal that he buried on home ice, setting off the arena's cannon for the first time in his career.
Murray was the only goal scorer in the first period and Phil Kessel scored the only goal in the second. In the third period the Blue Jackets stuck to their game plan and were rewarded. Marian Gaborik scored his team leading fifth goal of the season 3:12 into the third. Alternate Captain Brandon Dubinsky scored a shorthanded goal nine minutes later as the team was killing off a 4 on 3 man advantage. Alternate Captain Dubinsky skated coast-to-coast and rifled a shot over Jonathan Bernier's glove, effectively putting a bullet in the Leafs' chances to win the game. It was a very team Captain-ly thing to do.
Final score was 5-2. Dave Bolland scored a goal for Toronto that put them back in it for a few minutes. However, Ryan Johansen would add an empty-net goal and Nick Foligno would score one more time in the dying seconds of the game.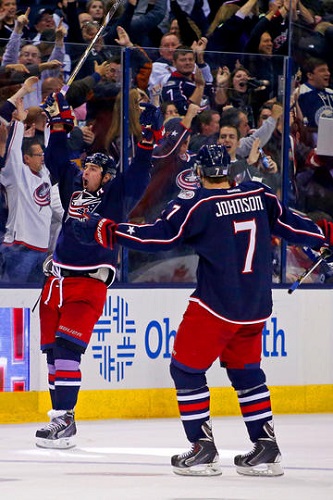 Columbus is on a three game winning streak and hope to extend that streak to four against the Anaheim Ducks tonight. It'll be the first meeting between the two clubs. The Ducks are off to an 8-3-0 start but they are a familiar opponent. The Blue Jackets played against their former conference rival twice last season and the Jackets won both of those games in overtime. Containing Anaheim's Captain Ryan Getzlaf and former Hart Trophy winner Corey Perry will be the main objective and the Jackets were successful in doing so last season.
The Ducks are averaging over 3 goals per game but their special teams has not done very well this season. Their power play percentage is the worst in the league at 6.8% and their penalty kill isn't much better at 75.6%. They are not to be underestimated with their offensive weapons on the power play but it could be a chance for the Blue Jackets to improve their special team numbers on the season.
Columbus is enjoying a nine game stretch where they play eight games a home. Their only road game is Friday against the Pittsburgh Penguins who will be in Columbus the following day for a back-to-back. The Ducks are four games into an eight game road trip that has them playing against Eastern conference teams exclusively. They are coming off of a 2-1 win over the Ottawa Senators.
Getzlaf and Perry are the offensive leaders for Anaheim with 11 points each but the player to watch is Mathieu Perreault. The 22 year-old was sent to the Ducks in a trade with head coach Bruce Boudreau's former team the Washington Capitals. Perreault has 10 points this season and adds scoring depth to the Ducks roster. Perreault is considered day-to-day with a wrist sprain.
Notes
Boone Jenner is out with a lower-body injury and is currently being reevaluated by the team's medical staff. He is likely to be scratched in tonight's game.
Derek MacKenzie is considered day-to-day with a lower-body injury.
Michael Chaput was called up from Springfield Saturday.
Stats
Nick Foligno is ranked 8th in the league in shooting percentage: 27.3% (3 for 11)
Marian Gaborik has 10 points in 9 games (5 goals, 5 assists) and is on pace for 90 points this season (45 goals, 45 assists)
Jared Boll is only averaging 7:14 of ice time per game. The lowest among the active players on the team.
Nine players have taken a faceoff this season and they are all above 50%
Derek MacKenzie, the oldest player for the Blue Jackets at the age of 32, is also their best in the faceoff circle winning 56.8%. Honorable mention Ryan Johansen is second winning 54.7%.
Face off percentage for Columbus is 6th overall at 53.6%
CBJ's power play is 20.5% (12th overall)
Columbus Blue Jackets record over the last 3 games: 3-0-0
Number of Alternate Captains for Columbus: 4
Number of Team Captains: 0
Follow @nickjbiss
Love Reading About Hockey?

Subscribe to keep up-to-date with the latest and most interesting hockey news!
| | |
| --- | --- |
| | We hate spam just as much as you |