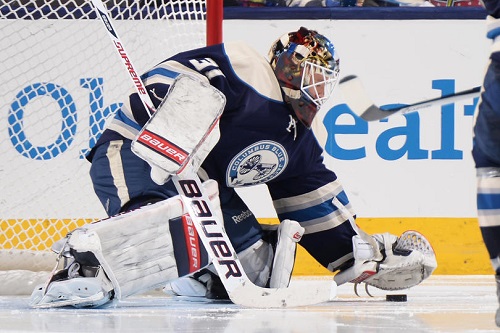 The Blue Jackets took down one of the best teams in the league Friday night. Their opponent, the Minnesota Wild, have had a terrific start to the season. However after losing to Columbus, the Wild have now found themselves outside of a guaranteed playoff spot in their division.
Meanwhile the Blue Jackets find themselves within four points of a guaranteed playoff spot in the Metropolitan Division. They are chasing down the New York Rangers for that playoff spot and Columbus has a game in hand. They've also improved their record against the Western Conference to 4-5-0 on the season. That might not sound very impressive but only three teams in the Eastern Conference have a winning record against the Western Conference this season, the Pittsburgh Penguins, Toronto Maple Leafs and the Tampa Bay Lightning.
In the spirit of optimism I'd like to point out that the Blue Jackets are undefeated against the Maple Leafs and Lightning this season.
Friday night Cam Atkinson opened the scoring for the Blue Jackets only 1:17 into the game. Atkinson rifled a shot above Niklas Backstrom's blocker shoulder from the top of the right wing circle. It was a laser and Backstrom never had a chance to react. It would prove to be the game winning goal even though the Blue Jackets would add three more before the end of regulation.
The biggest star of the game turned out to be Nick Foligno. He scored a goal and registered one of the most beautiful assists of the season on a behind-the-back pass to RJ Umberger. This play came one game after Foligno scored the only goal in a 1-0 victory over the Lightning, when he went between his legs and beat Ben Bishop.
Nick Foligno's beautiful behind-the-back pass to RJ Umberger:
Curtis McElhinney has been called upon to be the starting goalie in Columbus while Sergei Bobrovsky nurses an injured groin over the next month. He's been outstanding this season with a .932 save percentage and 2.02 goals against average. Currently, McElhinney has not allowed a goal in 75:47. It's a relief for the Blue Jackets fans to have such a capable backup to play while the starting goalie is out because this stretch of games will likely make or break the season for Columbus.
The Blue Jackets finished strong last season and we don't need to be reminded that the playoffs were a tie-break away. With a new front office and the most promising future the fans in Columbus have seen in a long time, they deserve a good season. You'd be lying if you said you wouldn't like to see Columbus have a "Cinderella season". Admit it.
Love Reading About Hockey?

Subscribe to keep up-to-date with the latest and most interesting hockey news!
| | |
| --- | --- |
| | We hate spam just as much as you |