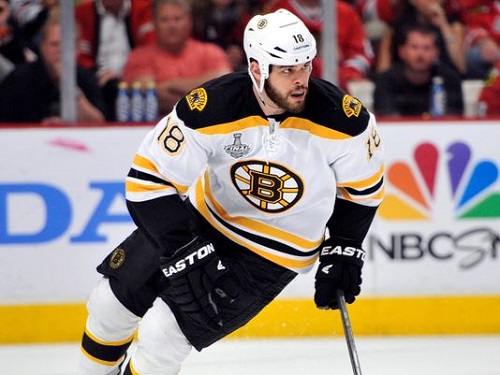 The Columbus Blue Jackets have come to terms with former Boston Bruins RW Nathan Horton. The contract is for 7 years and worth $37.1 million. The first 5 years of the deal will payout $30 million. The signing also leaves Columbus with a little more than $2.6 million in cap space.
The power forward isn't expected to make his debut with the team until December. He has to undergo surgery to repair a separated shoulder.
Horton was drafted 3rd overall by the Florida Panthers in 2003. Since that time he has racked up 402 points in 591 career NHL games. He has shown a tendency to turn up his play in the playoffs, scoring 19 points in 22 games in the 2013 postseason and 36 points in 43 total career playoff games. He won a Stanley Cup with Boston in 2011, the season he was traded to Boston from Florida.
He was considered to be one of the top free agents available and the initial reaction from fans is very positive. The club General Manager Jarmo Kekalainen, who is proving he isn't afraid to take risks, has a lot of confidence in Horton's signing.
"Nathan Horton was the player we identified as a perfect fit for the Columbus Blue Jackets and we are very happy to welcome Nathan and his family to our organization," said Kekalainen. "He is an elite power forward who brings size, skill and a great desire to compete to our lineup. He is also a person of great character and someone who will fit in very well with our team."
Horton made it known that he was looking to explore free agency in the offseason and wanted a team that was in a smaller market. He visited Columbus on Wednesday and had this to say about the deal:
"I am very excited and proud to be a member of the Columbus Blue Jackets. This is a team on the rise with great players and I'm looking forward to being a part of it," said Horton. "We felt at home as soon as we visited here and it was pretty clear to us that this is where we wanted to live. This is a great fit for me and my family."
The 28 year-old, 6-2, 229-pound Horton has established himself as one of the top power forwards in the league. In his 591 career games he has racked up 543 penalty minutes and has a cumulative plus/minus rating of +57.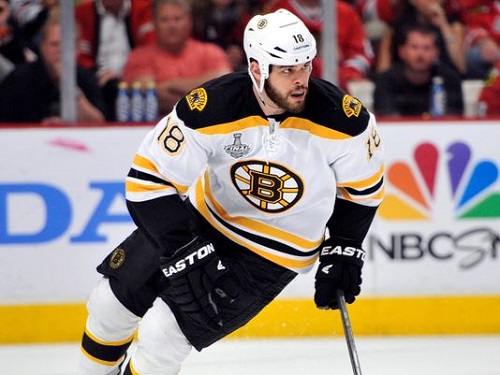 Personally, I do think Horton is the type of player Columbus could use if they want to be competitive in the upcoming seasons. He's proven to be solid and reliable in the regular season and his performance in the playoffs is something the Blue Jackets will hopefully need during his time with the team. His gritty style of play will match the on-ice strategies that Columbus executed well during the last half of the 2013 season. The experience he brings, which includes two Stanley Cup Finals appearances and one championship, is something the team lacks and will benefit from.
Reactions from around the league are optimistic for the Jackets. The team is entering a new division with the Pittsburgh Penguins, Philadelphia Flyers, New York Islanders, New York Rangers, New Jersey Devils, Carolina Hurricanes, and Washington Capitals due to the Conference realignment that will take effect beginning next season. The moves and direction the team is taking should help to make this one of the most interesting and competitive divisions for years to come.
Welcome to Columbus, Nathan. I am looking forward to cheering you on.