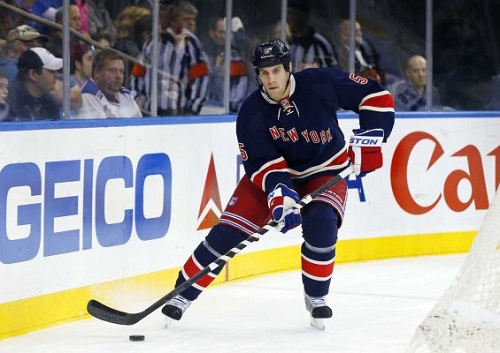 The New York Rangers had three key unrestricted free agents on their roster coming in to the 2013-14 season. Goaltender Henrik Lundqvist got his deal done early in the season, and now only one more remains. Career Rangers Defenseman Dan Girardiand the Blueshirts have agreed on a six year, $33 million dollar extension, that will keep #5 in Broadway Blue through the 2019-20 season. Winger Ryan Callahan is the last member of that triumvirate, but more on him later.
Known for his top-notch defense and shot-blocking, Dan Girardi isn't considered much of an offensive defenseman. His bread and butter is handling the opposition's top offensive threats and keeping them in check. But he's certainly no slouch back there either. He's broken the twenty point barrier in every full-length NHL season since he became a full time member of the Rangers blueline. He's a big contributor killing penalties, and he's never averaged less than 21:12 of ice time a game for his career.
Considering that Rangers other top rearguard, Ryan McDonagh, signed a six year contract ($28.2 million) this past off-season, the Rangers now have their top pairing set for the foreseeable future. Arguments can be made about which team has the top defensive pairing in the league, but the Girardi/McDonagh combo would certainly be amongst that conversation. Detractors might say $5.5 million per year is a little north of Girardi's value. But defensively responsible, top-pairing caliber defensemen are always at a premium. Overpaying a little to keep your top-defensive pairing together is quite alright.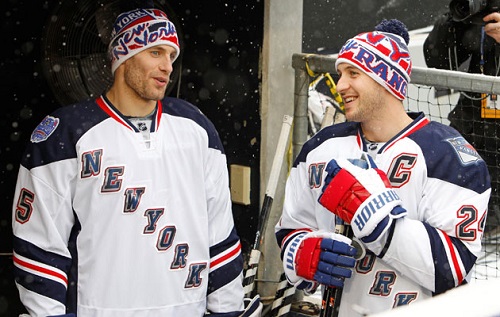 Speaking of overpaying…Ryan Callahan. There's still no deal done with him, and it's widely accepted that if Rangers GM Glen Sather doesn't get a contract extension done with him by the March 5th trade deadline, he's as good as gone. If Callahan wants to stay, then his annual salary needs to come down, or the length of his contract needs to be shorter. The Rangers brass won't give him both. There's nothing not to love about Callahan's game and the grit he brings to the team. But his rumored demands of $6.5 million for seven years are slightly ludicrous. I know how beloved he is among the Garden Faithful, but unless Callahan's agent (Steve Bartlett) starts to be more reasonable, get used to not seeing 24 in blue on the ice. Rangers' fans got over it when Mark Messier left for Vancouver in 1997, they got over it when Brian Leetch was traded to Toronto against his will in 2004, and they'll get over this too.
As for the Marty St. Louis/Callahan trade rumors from this week, I'm surprised at how much backlash there's been among Rangers fans not liking that swap. I understand that he's old (38), but look at his stats. The guy has produced at a high level throughout his career for the Lightning, he shows no signs of slowing down, and he has a chip on his shoulder. I know that this particular rumor has lost some steam as the week progressed, but if this were to happen, getting him with one year remaining on his deal (for a guy who was going to walk anyway) seems like a pretty good return to me.