The Red Wings rebounded from an opening game loss to the Carolina Hurricanes with a win in the Saturday night rematch. Bobby Ryan played a part in that win, scoring the game's first goal. On a great steal by Filip Zadina and a quick feed from behind the net, Ryan quickly released a shot as soon as the puck touched his stick.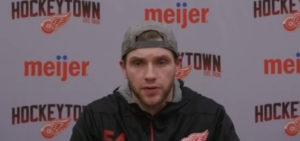 "Bobby can help us with our depth scoring for sure," said coach Jeff Blashill on Saturday. "That's a goal scorer's goal. He doesn't get it and stick handle; he gets it and one-times it at the net. Ultimately if you shoot off the pass, you have a way better chance of scoring. It was a nice goal for him. I think that's a big piece of us having a chance to be a better team is having more guys scoring."
Ryan has had some personal struggles in recent years relating to alcohol addiction, and this new chance with Detroit may be exactly what he needs to find some redemption in a fresh beginning.
On Monday he continued the hot start by scoring the game's opening goal again, this time right off an offensive zone faceoff. Additionally, in the game's final minute, in a goal mouth scramble, he was credited with another goal after he was pushed into Joonas Korpisalo by Blue Jackets defender Zach Werenski, causing the puck to trickle across the line. He's been a bright spot through his first two games.
—
Dylan Larkin also rebounded following the Wings' opening night defeat. After a frustrating game, he responded with two goals (one even-strength and one empty-net goal) on Saturday. After carrying the puck around the net, he threw it to the crease, and it deflected in off Cane's forward Vincent Trocheck, who coincidentally also scored a Carolina goal mere seconds before, deflecting an Andrei Svechnikov point shot past Jonathan Bernier.
Although he didn't find the scoreboard on Monday's matinee, he played a great game nonetheless, showing good speed and determination, even having a small scrap with his friend Werenski. Overall, the top line has been showing much more synergy and consistency following a less than stellar start.
—
The power play is scoreless through three games, going 0-for-6. Detroit has struggled on the man-advantage for quite some time now, and that hasn't changed as of yet. The PP units have had a hard time maintaining control of the puck in the zone, and have looked uncoordinated for the most part. Something will need to improve on this front if Detroit is to begin winning games.
On a positive note, after being outshot 43-14 and 31-21, Detroit actually outshot their opponent on Monday, 37-29. They also improved drastically in faceoffs, winning 59% of draws on Monday and 53% on Saturday compared to 40% in the first game. Luke Glendening won 13 of 15 today.
—
Goaltending has been one of Detroit's biggest weaknesses, especially last season. However Greiss and Bernier have been good. Bernier earned the win Saturday while Greiss's goals were primarily from shots that he had little chance of stopping. It is reassuring that both netminders seem up to the task of stopping large amounts of shots this season. A revamped D-corps that includes Marc Staal, Jon Merrill and Troy Stecher will give them a better chance than last season.
"I think you have to have real good goaltending in this league to win, and I think both guys give us a chance every night to have that," said Blashill. "I think both of them have the ability to give us real good goaltending. A big part of that is we have to make sure that we're defending well."
—
On a not-so-hot start, Vladislav Namestnikov missed on two prime breakaway chances Saturday. On both occasions he didn't attempt any moves to fool the goalie, and both were stopped with ease. Later in the game, Larkin set him up for an empty net goal, and he missed that as well. Needless to say, he should only improve from here.
—
Robby Fabbri, who scored the game-winner for Detroit on Saturday was put on the COVID protocol list alongside forward Adam Erne which prevented them from suiting up on Monday afternoon. In their place, Michael Rasmussen was inserted into the lineup to center Ryan and Zadina, while Frans Nielsen filled in for Erne alongside Luke Glendening and new Swedish forward Mathias Brome.
Schedule
Detroit hosts Columbus again tomorrow night at 7:30 ET. The Wings then travel to Chicago for a pair of games on Friday (8:00) and Sunday (12:30).