Boston Bruins
Featured
Boston Bruins Broadcaster Jack Edwards Is Facing Accusations Of Being Intoxicated While Calling Sunday's Game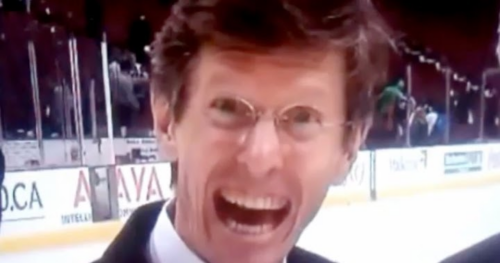 Boston Bruins broadcaster Jack Edwards has always been a controversial figure in the National Hockey League.
Most hometown fans in Boston love his passion and dedication to the Bruins, but other fans believe he is too biased when it comes to Bruins calls.
On Sunday, however, Edwards sparked a different kind of controversy when a play during a game between the Bruins and the Carolina Hurricanes drew the attention of many viewers. During the sequence in question, Edwards expressed disbelief that Hurricanes forward Jordan Martinook had gone unpunished.
The problem was that the video replay didn't appear to show Martinook breaking any rules, and making matters worse, Edwards was laughing maniacally and even clapping during the replay.
Jack Edwards… uh, you good? pic.twitter.com/ikVeAR4P0O

— Bradley (@BradIey98) March 26, 2023
This resulted in numerous accusations of intoxication, some of which came from prominent hockey-related social media accounts.
Spittin Chiclets suggested that Edwards "take another bong toke."
Have another bong toke Jack pic.twitter.com/c3dRHjlNpA

— Spittin' Chiclets (@spittinchiclets) March 26, 2023
As per Heat Daddy, Edwards was "high as hell" on air.
Jack edwards is high as hell pic.twitter.com/QGMudGjZrk

— heatdaddy (@heatdaddy69420) March 26, 2023
Edwards' stumbling over himself during the broadcast didn't help him in this regard.
Jack Edwards with an unreal call "The momentum, all Carli-li, Caro uh, ha, Carolina" pic.twitter.com/VIb1aGMvOg

— Ryan Considine (@RhynoCons24) March 26, 2023
Of course, none of this is evidence that Edwards was genuinely intoxicated on air.
It appears far more likely that a number of personalities simply took advantage of the opportunity to poke fun at an often contentious figure in the National Hockey League.
One can only wonder….