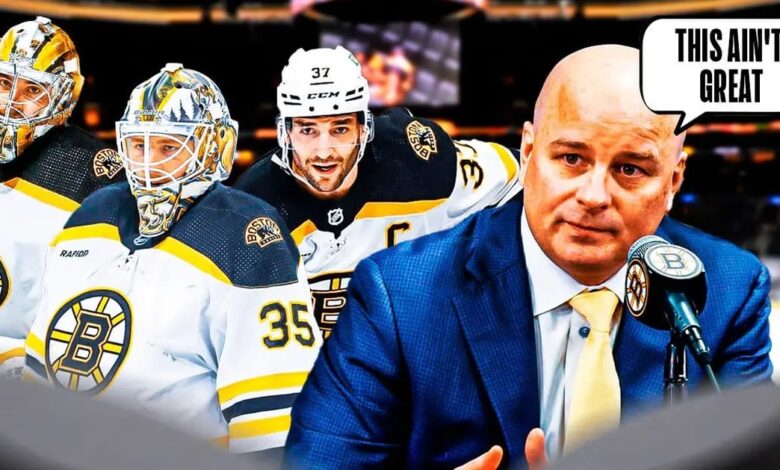 On Monday morning, just hours before his team's first round Stanley Cup playoff game against the Florida Panthers, Bruins head coach Jim Montgomery delivered what can only be described as a boatload of bad news.
The Bruins have called up Brandon Bussi from the American Hockey League's Providence Bruins on an emergency basis, which is perhaps the biggest news of the day. The recall of Bussi appears to indicate that the Bruins are unsure whether both Linus Ullmark and Jeremy Swayman will be ready for Game 1, and there is reason to be concerned.
Swayman missed practice on Sunday due to an illness, according to Montgomery, but he and Linus Ullmark skated on Monday morning. Montgomery, on the other hand, describes Ullmark as a "gametime decision," which could indicate that he is also feeling under the weather.
Bussi has never played in an NHL game, so making the Stanley Cup playoffs would be a huge step up for him.
Having said that, he had an outstanding season with the Providence Bruins of the American Hockey League, posting a 2.40 goals against average and a.924 save percentage in 32 games.
It appears that there is a bug circulating in the Bruins locker room, and it appears that several key members of the Bruins roster are suffering from it at the moment. Montgomery confirmed that David Krejci, Derek Forbort, and Nick Foligno are all in, but the lineup is still up in the air due to the questionable status of some players.
Bruins captain Patrice Bergeron will also be a game-time decision, and you have to think that if he misses Game 1, the Bruins will be heavily criticized for putting him in a meaningless game against the Montreal Canadiens at the end of the regular season.
The last thing you want at this point in the season is an illness spreading throughout the locker room, and disaster appears to have struck the Bruins at the worst possible time.
To recap…
– Bergeron is gametime decision.
– Ullmark is gametime decision.
– Swayman, who missed practice yesterday with illness, took part in optional morning skate.
– Bussi up from Providence as emergency third.
– Foligno likely to play.
– Forbort is definitively in.

— Ty Anderson (@_TyAnderson) April 17, 2023