Featured
Other Leagues
Breaking: Father of Russian Hockey Star Matvei Michkov Dies Under Mysterious Circumstances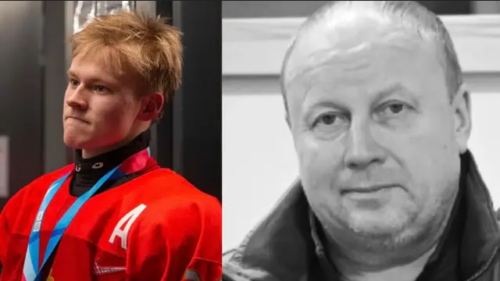 SKA St. Petersburg of the KHL has announced that Andrei Michkov, the 51-year-old father of Matvei Michkov, has been found after being missing for two days.
4 апреля стало известно о гибели Андрея Мичкова – отца нападающего СКА Матвея Мичкова.

Хоккейный клуб СКА выражает глубочайшие соболезнования родным и близким Андрея Мичкова. Клуб готов оказать всю необходимую помощь и поддержку семье погибшего pic.twitter.com/Zs9xpykqjR

— Хоккейный клуб СКА (@hcSKA) April 4, 2023
On April 4, it became known about the death of Andrei Michkov, the father of SKA striker Matvey Michkov.
Hockey Club SKA expresses its deepest condolences to the family and friends of Andrey Michkov. The club is ready to provide all necessary assistance and support to the family of the deceased
– SKA St. Petersburg
The Russian Hockey Federation confirms the death of Andrey Michkov, father of 2023 NHL Draft prospect Matvei Michkov. Sport Express reports the elder Michkov had been missing for the last two days and his body was discovered in a pond. An investigation is underway.

— Chris Peters (@chrismpeters) April 4, 2023
To say that the circumstances surrounding the elder Michkov's death are suspicious would be the understatement of the century. He had been living in Sochi, Russia, with his son Matvey while on loan to HC Sochi for the playoffs.
More from Sport-Express (translated from Russian):
Police officers removed and identified the body of 51-year-old Andrei Michkov. The father of hockey player HC Sochi and the Russian national team Matvey Michkov was found dead in a pond on Old Believer Street in the urban-type settlement of Sirius.

On the evening of April 2, he left the house at the same address, after which communication with him was lost.

The nature of death will be reported after investigation of all circumstances.

On April 4, it became known that Andrey, the father of hockey player Matvey Michkov, disappeared in Sochi. Since April 2, 2023, the whereabouts of the 51-year-old man is unknown.

– Sport-Express
So… he was missing for two days and no one knew until he was discovered dead in the bottom of a pond?
Again, we will wait for the investigation to be completed before making any conclusions.
It's unclear what will happen to Matvei Michkov's season now. He's been outstanding for Sochi this season, putting up nine goals and 20 points in 27 games despite being only 17 years old.
He surpassed Alex Ovechkin as the Russian national team's youngest goal scorer two years ago.
In fact, at a younger age, he has surpassed Ovechkin's statistics at every level. He is widely regarded as the consensus second overall pick in the upcoming 2023 NHL Entry Draft, trailing only North Vancouver native Connor Bedard.