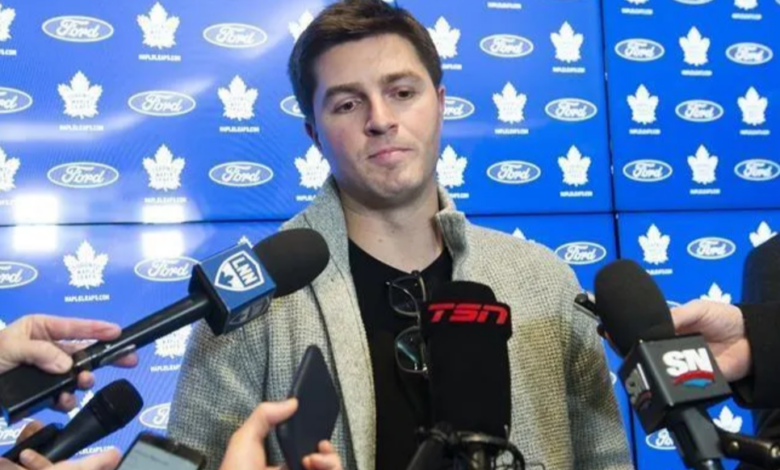 Since losing his job as Toronto Maple Leafs general manager, Kyle Dubas has made his first public statement. Since leaving, the young executive has been radio silent, but we now know additional details about what transpired.
Recently, Kyle Dubas and his family thanked all of the dedicated members of the Maple Leafs organization in a statement posted on Twitter. Here is the complete quotation:
"While I understand there is interest surrounding the circumstances of my departure, I will not get into the specifics of what I consider to be reasonable and consistent but private discussions. In the days that I felt I needed to assess and evaluate my own view to the future, both with respect to the necessary direction of the Club and ensuring that I had the full support of my family for what I knew would be required in the offseason and years to follow, the organization, as is their right to do, decided to go in a different direction.
In the nine seasons since being afforded the opportunity to work in the National Hockey League for the Toronto Maple Leafs, we have had the chance to learn a lot and have grown significantly through the ups and downs. We have watched our family double in size while developing meaningful relationships which will last a lifetime. It was an honour to be able to work in such an inspiring place, with dedicated, loyal people and an extremely passionate fan base. The impact of that and the relationships with all of the people at MLSE, from the board of directors through to the ushers at Scotiabank Arena, will forever hold a dear place in our hearts.
To the players, coaches and staff at the facility each day, past and present, thank you for your passion and commitment at every step of the journey together. It was a tremendous pleasure to work alongside you each day. We will roll from here."

-The Dubas Family
It's good to hear from Dubas again, and we can only speculate about what he may do next. For the time being, it appears like he will spend some time with his family before reevaluating his options.